How to Increase Summer Camp Enrollment: A Complete Guide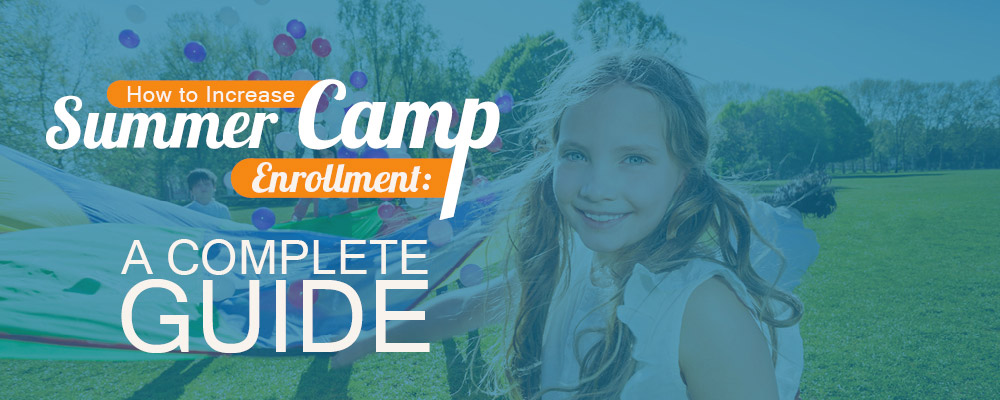 As a summer camp leader, you are intimately familiar with the struggles that summer camp enrollment can present. Your camp offers the youth in your community an opportunity to get away for a few weeks during the summer to catch up with friends, spend time outdoors, and explore their interests in a safe and supportive environment.
However important your camp is, there is likely still a yearly fuss over getting enrollment numbers up. Without an enthusiastic group of kids signing up for your camp every year, your camp will not be able to survive. As kids age out of your camp, there is a natural turnover rate for enrollment and developing a sustainable strategy is paramount to your success.
Because enrollment has the power to make-or-break the success of your camp, it is important that you never let this aspect fall to the wayside. Even if your camp has had successful camp enrollment rates historically, you must not ignore your summer camp enrollment strategy for future camps.
The thought of undertaking a significant overhaul of your summer camp enrollment strategy may seem daunting, or even overwhelming, for your team. However, with the right camp management software, you can easily increase your camp's enrollment rates by taking full advantage of the tools it offers you.
This post will guide you through the top 5 strategies for increasing your summer camp enrollment. These strategies are:
When you adopt these 5 strategies to boost your summer camp enrollment, you will see increased enrollment rates in no time. Let's jump in and get you prepared to revamp your enrollment strategy!
Improve your summer camp retention rates.
An astonishing number of campers don't return to camp in subsequent years. On average, less than half of campers return to the same camp after their initial attendance. When this is the reality most camps are facing, it can seem impossible to see a way to improve your camper retention rates without drastically changing the way you manage your camp.
The key to better camper retention is intently listening to the wants and needs of your campers, their parents, and your staff members and then taking action based on their feedback.

You may be wondering why camper retention is such a valuable area for your camp when you could just continue cold outreach into your community. While extending your camp's reach into your community is undoubtedly important, a mere 5% increase in camper retention can lead to a 25% to 95% increase in revenue. With this kind of camp revenue increase, your camp could better provide the programs and activities that campers love!
Gather feedback from those who are involved in your camp through summer camp evaluation forms. These evaluation forms should provide your camp's administrative team with important information on:
Camper experience.

Parent satisfaction.
Your camp software should enable you to disseminate your evaluations and receive, organize, and store the feedback. Make sure your evaluations are tailored to their audience to ensure the questions you ask are relevant:
Camper experience.
When sending evaluations to your campers at the end of the summer, keep in mind that they are children and likely have one thing on their mind: fun. They attend your camp to escape, to have fun, and to reunite with old friends (and make a few new ones!). Your questions should center around how they enjoyed camp and how well you met their expectations. Ask questions like:
What was your favorite activity at camp?

On a scale of 1-10, how well did you get along with your bunkmates?

What activity do you wish we could do more of?
The more enthusiastic your campers are about attending your camp, the more likely it is that parents continue to sign up their kids every year!
Parent satisfaction.
Evaluations geared toward parents should focus on their registration and payment experience. If your camp's customer service and digital registration processes are over complicated or cause issues for parents, they will be much less likely to want to re-enroll their campers each year. Get some constructive feedback from parents by asking questions like:
On a scale of 1-10, how easy to use was our camp registration software?

What camp experience do you wish your child had this summer?

Is there any way we can improve your interactions with our camp?
Parents are the ones who determine whether the child is going to return to camp. Make sure they are satisfied with your camp. It is not enough to merely gather this information. Use their feedback to understand how you can make your camp more appealing and encourage more people to re-enroll in your camp!
Streamline your summer camp registration process.
An effective and efficient summer camp registration process is important for your camp to master as you try to increase your summer camp enrollment. It is much too easy for people to abandon the registration process—with one flick of their finger, or press of a button, they can leave your registration site, never to return. Streamlining your summer camp process to help it reach its maximum efficiency then becomes even more necessary.
With the help of your camp management software, you can easily streamline your summer camp registration process to encourage more people to sign up by providing easy-to-use enrollment forms, utilizing a centralized database, and allowing multiple registrations.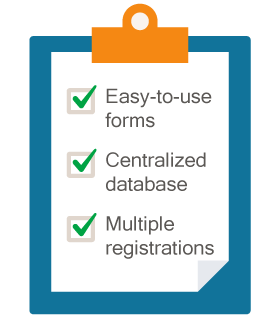 Providing easy-to-use summer camp enrollment forms.
Your summer camp enrollment forms set the tone for your entire registration process. These forms should be straightforward and clearly walk parents through registration. Parents don't want to waste their valuable time wrestling with a complicated digital form. Make sure your forms:
Are short and simple.

Only ask for the information you know you need. Forms should never seem to ramble or ask questions that are not directly related to the task at hand. However, don't neglect collecting vital information regarding emergency contacts, medical and allergy alerts, and basic demographic data.

Provide all pertinent information.

Registration forms should offer parents some information about your camp including general camp contact information, session dates, and the camp leader's name and contact information.

Detail pricing information.

Pricing for your camp may differ based on the session they choose, the number of kids they register, or the age of their child. Make sure your registration forms walk parents through the pricing structure so they can select the option that works best for them.
Utilizing a centralized database
Registration can quickly become a hassle for your camp's administrative team. Using a camp management software will allow you to house all of your camper registration data in a single, centralized location. This will enable you to better understand who your campers are, the method of their registration, and how to best appeal to them in the future.
If you want to increase your summer camp enrollment, you need to make sure your administrative team is prepared to handle an increased influx of registration data and expertly store, organize, and use the data in the future.
Allowing multiple registrations
Oftentimes, parents want to register all of their kids for camp simultaneously but have to undertake the tedious task of filling out individual forms for each child. This can be incredibly time-consuming and can be enough to dissuade some busy parents from completing the registration process.
Your camp management software should enable parents to add multiple registrations to a single registration transaction. Parents will love the ease of only having to enter their payment information once!
Your summer camp enrollment levels are highly dependent on the efficiency of your registration process. If your team puts a little bit of effort into perfecting your registration process, you will see an increase in your camp enrollment in no time!
Inspire confidence in your summer camp enrollment process.
When parents choose to send their children to your camp, they are entrusting you with something that is precious to them. Parents need to know that you are going to take excellent care of their child and the process of building trust starts with camp enrollment.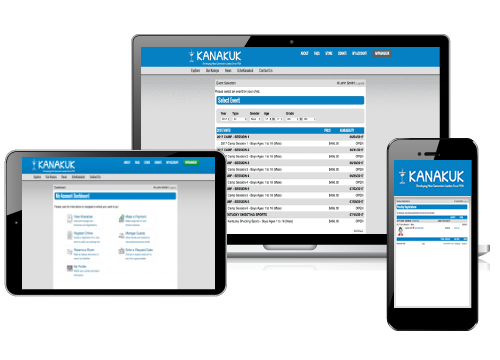 Your enrollment process should never give parents any reason to distrust your camp or the tools it uses. A parents' trust in your camp begins with:
A seamless web integration.

Any registration tool that your camp uses to facilitate its enrollment strategy needs to appear as an effortless extension of your existing web presence.



Consistent Branding.

It is important to maintain your camp's branding across all parent-facing content. From registration forms to website interfaces, parents should never feel like they are being misdirected or lead away from your primary site. Branding refers to your camp's official color scheme, logo, images, and digital style.
Because encountering unfamiliar looking pages during registration can confuse and discourage some customers, implementing these best practices on your website and across all of your digital presence will minimize the number of dropped enrollments your camp encounters.
Your online presence should come across professional, engaging, and cohesive. As parents and site visitors develop a trust in your site and your registration process, they will be more willing to complete enrollment forms and feel confident in sending their kids to your camp!
Communicate with parents about summer camp enrollment.
Keeping up with open communication is a vital component of your summer camp enrollment strategy. After all, it is unreasonable to assume people will enroll for your camp if they don't know when or how to register. Employ a well-developed, comprehensive communication strategy to widen the reach of your summer camp.

Your communication strategy should be multifaceted and occur in three different stages:
Leading up to enrollment.

Make sure to spread the news about your enrollment well in advance of when registration opens. Allow parents the chance to consider your camp thoroughly and prepare to enroll their child.

During the enrollment period.

Remind individuals who have started their registration to finish before the deadline. Make sure to follow up with parents in increments throughout the registration period, clearly conveying the deadline.

After the summer camp ends.

It's never too early to get a headstart on enrollment for next year. Encourage parents to get ahead of the game and enroll their kids in your camp for the following summer. Add some incentive by offering an early registration discount.
It's clear that, to increase your summer camp enrollment, you need to have a clear communication strategy throughout the year. However, it can be difficult to know how to go about implementing this strategy.
To successfully communicate with prospective campers and their parents, you need to use the right tools. For example, your camp management software will enable you to track prospective camper leads and keep tabs on where they are in the registration process. Then, you can easily see when someone requests more information, abandons a registration form, or indicates in any way that they are interested in further engaging with your camp.

Plus, you can break through the digital clutter by leveraging direct mail strategies alongside your email and other digital outreach. By working with a direct mail platform, you can equip your team with the resources they need to reach out to prospective campers and parents effectively.
Your camp software will enable you to track prospective camper leads and keep tabs on where they are in the registration process. You will be able to easily see when someone requests more information, abandons a registration form or indicates in any way that they are interested in further engaging with your camp.
Regardless of what stage of your communication strategy you are in, you can use your software's comprehensive email capabilities to reach out and encourage enrollment. Make sure your software platform comes equipped with the tools to facilitate:
Scheduled emails.

Plan ahead and set up an email campaign that can go into effect whenever you need it to. With this tool, you can set create and schedule your emails during your off season so you don't have to worry about it during the height of your camp's enrollment period.



Automated emails.

Why overload your administrative team with your email strategy when there is a clear alternative? Employ completely customizable automated emails to follow up with people who have abandoned their enrollment form to remind them of the deadline!

Mass emails.

Easily reach out to all people who have been involved in your camp at once with mass email technology. Perfect for contacting all participants at the end of the summer, this tool will let you contact hundreds (or even thousands) of people with one click!
How and when you communicate with parents matters just as much as what you are telling them. Make sure your strategy is efficient and appeals to your camp's specific audience.
Highlight your camp's unique features prior to summer camp enrollment.
No two camps are the same—yet, when marketing their camp so many camp leaders forget to highlight the features of their camp that make it unique and exciting for campers. If you want your camp to stand out to parents who are registering their kids for summer cams, make sure you emphasize all of what makes your camp special.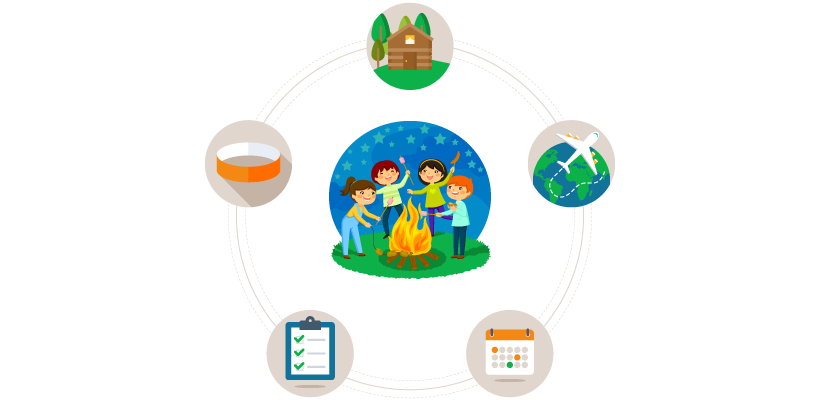 When you employ camp management software, like CircuiTree, you can boast a variety of features that parents are sure to appreciate, such as:
Automated housing.

Campers are matched with the perfect roommates based on their age, gender, and any other housing priority you set. This means that kids will be matched up with other like-minded children, ensuring kids won't have any trouble making friends when they arrive at camp. Campers can also make roommate requests that, when approved by both campers, are automatically entered into your management system.

Transportation tracking.

Reassure parents by keeping up-to-date records on all charter buses, shuttles, and flights managed by your camp. When your campers travel by an approved mode of transportation, parents will know that their kids are safe and you can know your camp is running efficiently.

Activity scheduling.

A camper favorite, this feature allows campers to take control of their activity schedule prior to arriving at camp. All you need to do is provide the activities with information about time, location, extra costs, and capacity while your camper can design their own activity schedule. Campers will love this and parents will enjoy seeing how excited their child gets as they look forward to their activities leading up to camp.

Camper check-in.

You can emphasize how efficient and accurate your camper check-in process is as you ditch the stacks of loose papers and clipboards and adopt a digital check-in tool. With tools to design camper profiles complete with identification photos, campers can easily be checked-in on the first day of camp and kept tabs on throughout their session.

Electronic health center.

A much safer system than the old 3-ring binder method of organization, an electronic health center can keep all of your campers' medical information in a secure database. This feature will ensure the safety of your campers and reassure parents that their kids will be well taken care of in the case of a medical emergency. Each camper wears an identification wristband with a barcode that can easily be scanned by your counselors and medics to access their important medical information.
Parents will love the benefits that these features offer your campers. As long as you emphasize these features leading up to the enrollment period, parents will jump at the chance to send their kids to a camp as well-organized and safe as yours.
---
Encouraging enrollment at your summer camp doesn't need to be a stressful ordeal for your administrative team. Simply adopt a camp management software that will streamline your camp's registration process, help you encourage parents to register their children for your camp, and offer unique features that will appeal to parents and campers, and you will see increased enrollment numbers in no time!
---
Additional resources for summer camp enrollment