Summer Camp Registration Forms: Free Tips!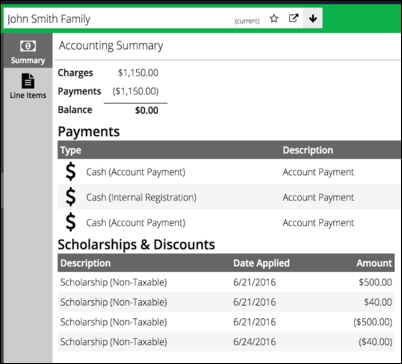 When the summer is approaching and families are starting to solidify their plans for the season, you need to make sure that your camp is ready for one of the most important parts of the year: camp registration season!
Kids and their parents around the country use registration forms all the time, to sign up for everything from sports leagues to field trips.
How can you make sure that your summer camp management is providing the best registration form that you can to your potential campers, so that they're more likely to complete the form with their parents and become fully-fledged campers?
We've compiled a list of our favorite tips and tricks for writing an awesome registration form, as well as written an example one for you that you can download and use!
When writing your summer camp registration forms, your team should try to:
When your registration form is in tip-top shape, parents will be more likely to fill it out and submit it! Let's get started and discuss each of these ideas in more detail.

1. Keep your summer camp registration form as short and simple as possible.
The most important thing to keep in mind with a form is that including unnecessary fields will increase the abandonment rate.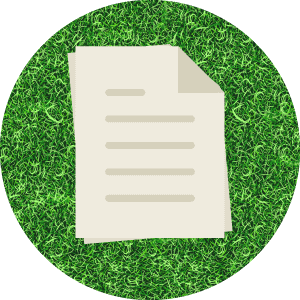 Parents, when filling out a registration form, don't want to have to spend time answering questions that don't co
ntribute to their child's camp registration process. They want to be able to fill out biographical, camp-related, and payment information and then be done!
So give the parents what they want and focus all of your registration form fields on the following topics:
Participants and parents

. Naturally, you have to ask a child's age, birthday, sex, allergies, and medical history. You'll also need to know about the parents: their names and contact information, since they'll most likely be the emergency contact for the child.

Camp programs

. Your forms need to include fields about what camp programs and activities the child is involved in, depending on the variety that your camp offers. Are they an overnighter? Are they interested in the horseback riding camp? Personalize your form to your camp's programs.

Registration and payment

. A registration form has to include details such as these, including returning camper status, special needs, the parents' credit card or checking information, and a billing address.
Making the registration process as easy as possible increases your registration completion rate!
Whether you're choosing a registration form design or investing in new software, it's important to test it out before you release it. A form or software that your own team can't efficiently figure out is not going to work for your campers' parents!

2. Include your organization's information at the top of your camp registration form.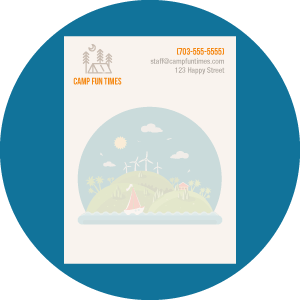 At the top of your form, right around where you probably have a title like "Summer 20XX Camp Registration" or something similar, you should include all the relevant contact information that a curious or worried parent could need
This would include information like:
An email address of someone who can answer registration-related questions.

A phone number and working hours of the person with the answers.

The appropriate address, for mail-in registration forms.

The website address, where parents can find more information.
In addition to making your camp registration form appear more professional, it puts parents at ease knowing that they can easily call or email your camp staff should any questions arise.
Including contact information on your form also increases the chances of parents completing the form, because if they come across a field they don't know how to answer or have a question relating specifically to their child, they can call your camp immediately instead of putting the form down and forgetting to ever pick it back up. Another way to ensure that parents view your camp as professional and trustworthy is to make sure that your camp registration form is branded to your organization. Your color scheme and logo should be consistent across your website, newsletter, registration forms, and anything else you might send to parents.

This is especially important for online forms, which parents might view as inherently less trustworthy. So that they'll feel comfortable including personal information and payment details on your form, make sure they can tell that it's part of your organization's web presence.


3. Include different pricing tiers and options on your camp registration form.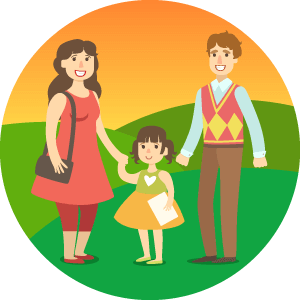 As much easier as it would be for every single camper to pay the exact same amount for attending a camp session, you and your team know that that's not a practical pricing system.
Families earn discounts for a ton of things, including military service, multi-child registrations, returning camper or referral discounts, and more. Children also earn scholarships by applying, or having parents send in proof of need.
Scholarships and discounts are important to your camp's culture to ensure that all children are able to experience the joys of summer camp! But sometimes parents may not know about these discounts, or they might not think that they're eligible for scholarships.
To prevent this issue from keeping kids from attending camp, include a short informational section on your camp registration form regarding scholarships and discounts. The most important informational tidbits to include are:
Scholarship application deadlines.

Common types of discounts and examples of eligibility.

A link or QR code leading parents to more detailed information.
Then, after the informational aspect, consider including a field on your form that allows parents to apply a discount or scholarship to their application. Of course, the application will have to be reviewed by your camp staff to ensure that the parents included the right code or checked the right box, but allowing parents to self-select for discounts saves both you and the parent time and money.
The parent doesn't have to pay upfront with money they might not have on hand, and your camp staff doesn't have to dedicate a lot of brainpower to ensuring that everyone gets refunds after scholarships or discounts are applied. It's a win-win!


4. Offer an online summer camp registration form, if possible.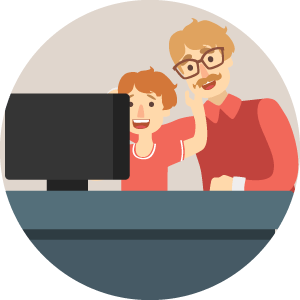 All of the tips so far have been applicable to both online and offline registration forms. But when thinking about building the most attractive and effective camp registration form, you have to plan for the future.
Using a word processor to create your summer camp registration form docs is fine, but as your camp grows, it's going to be more and more important to have an integrated software system that helps your camp collect and use data more efficiently.
If possible, your camp should invest in online registration software.
With an online solution, campers everywhere are able to register more easily. Your staff can also rest assured that they've received all of the applications and payments, instead of worrying about a check or registration doc getting lost in the mail.
Online registration is a best practice for camps everywhere for multiple reasons:
Your forms can autoflow information from registration forms directly into

your camp database software

, so that you never have to worry about information getting lost.

You can more easily personalize the forms, since you can create adaptable forms with different fields based on programs, instead of creating different summer camp registration form docs.

Parents can send scans of important documents straight to your camp, instead of worrying about sensitive information getting lost in the mail.

Using online forms instead of paper saves trees!
Offering online registration also makes it easier to register multiple children in a family, synchronize roommate requests, keep track of how many children are registered for a program or activity, and follow up with parents for payments or additional documentation.

An online registration form that integrates or is part of your camp management software is a seriously useful tool for making the registration process as convenient and secure as possible for both parents and administrative staffers.

5. Sell merchandise on your camp registration form.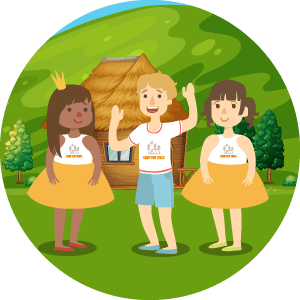 One last tip for your camp registration form is this: your team should encourage parents to purchase camp store merchandise for their kids on the form.
Encouraging parents to order t-shirts on the form has a variety of benefits:Merchandise orders are an important part of the registration process because it helps to get kids excited to come to camp and get their cool new gear, as well as makes parents worry less about sending their kids to camp with money for a shirt or water bottle.
It increases non-registration dues revenue for your camp.

It lets you know a rough estimate of how many t-shirts you'll need to order for the summer.

It gives your campers a way to advertise your camp all year round.
When parents order their children t-shirts ahead of their camp session, your team won't have to worry about not having enough shirts for all your campers. You'll already have a rough estimate of how many children get shirts, as well as their sizes, so all you have to do is order a few extras for those who didn't pay with registration, and voila! Your campers get gear to remember their awesome summer by, and your team doesn't have to worry about disappointing a little kid by not having a shirt or their size!
For extra creative fun, consider making a game out of it. Ask campers to preorder certain colors, or create different t-shirts for different cabins or age groups. Then hold fun cross-camp games like hide and seek, tag, or a kickball tournament!
Camp t-shirts and other gear can help build community within your camp, so make sure that parents know that they're able to purchase anything their kids might want or need right from the registration form.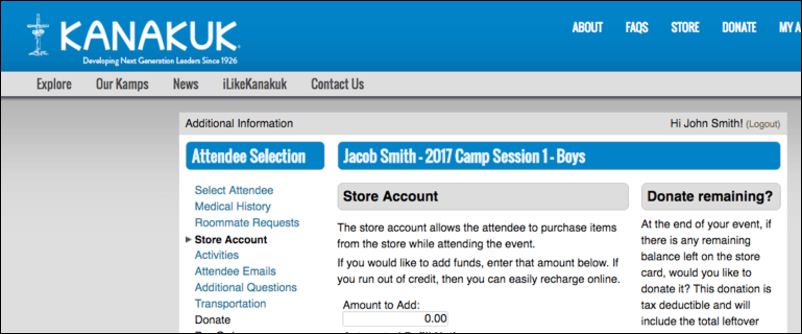 Summer camp registration forms are the way you make your first impression with parents, so make sure you make a good one! If you follow these tips, you're sure to encourage campers to register and assure parents that their kids will have a great time this summer.
For more fun camp tips and tricks, check out some of our other favorite resources:
Camp Registration Software Guide. If you've been convinced to invest in camp registration software to help out your team, check out this guide to all the features you'll need to keep your community happy.

How to Ask for Donations.

With this helpful guide from Double the Donation, you'll be able to ask for the donations you need to keep your scholarship programs up and running and ensure the continuation of your camp's success.

Camp Management Toolkit.

Read our guide to learn more about how to optimize your summer camp management so ensure that your campers have the best summer camp experience possible!