Camp Management Software: The Essential Tools for Summer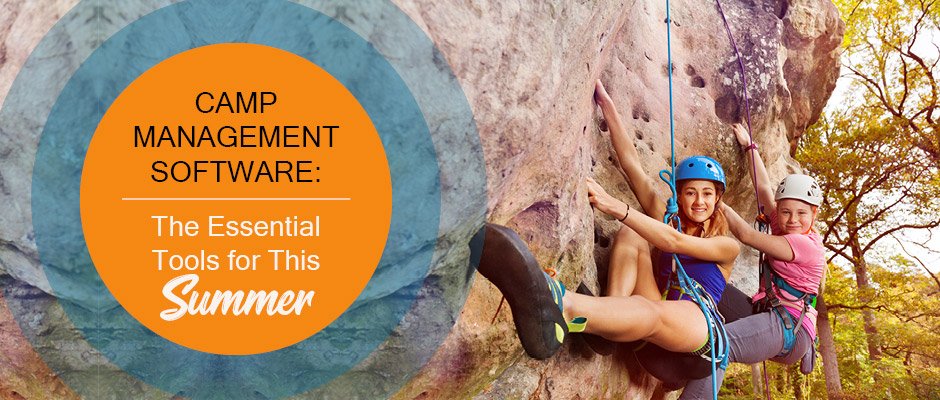 Summer camps are some of the most rewarding experiences that an organization can offer. Not only do these programs effectively engage your community members with immersive activities, but they also provide experiences that campers will look back on fondly for the rest of their lives.
However, these experiences are largely dependent on the actual camp itself. This means planning and organizing the best programming and activities that will attract the maximum registrants. Before you and the rest of your staff brainstorm ideas for the summer, it's imperative that you set up a solid foundation with camp management tools for your camp to effectively grow.
Many camps and other similar programs depend on camp management software solutions in order to assist them with processes. There are tools out there to help streamline the registration experience, find you the best staff, and even facilitate communications to parents and campers.
For the best and most comprehensive solution, it's worth it to invest in one camp management software as your dedicated solution.
Whether you have a set of camp tools you already depend on or you don't know where to start, it's always a good idea to take a moment and see if your camp management can be improved with one comprehensive solution. Don't worry if you don't know where to start. The camp management experts here at CircuiTree have created this guide for camp leaders just like you. Here's what we will go over:
Give your campers an experience that they'll never forget and keep them coming back year after year. Let's get started!

Why Choose Dedicated Camp Management Software?
From an outside perspective, managing a camp might not seem like that big of a job. However, as a seasoned camp leader, you know that it involves an incredible amount of processes and stages. You need to ensure your programming is in tip-top shape, hire the best staff members possible, attract new campers while welcoming back old campers, and that's only before the actual summer begins!

Our recommendation is to choose a dedicated camp management software platform to host all of your processes and actions. Consider these top reasons:
Reduce the risk of stray papers falling through the cracks. With all your actions and processes occurring in your digital solution, you and your staff won't have to keep various paper slips or other documents regarding your campers. Make sure no information falls by the wayside!
All your staff comes in with the same training, orientation, and qualifications. If your summer camp management software handles your staffing process, you ensure that all your camp counselors and staff members are equipped with the right skills and knowledge to lead programs and oversee campers. Additionally, your staff members will all know how to navigate your management system!
Keep all of your data in the cloud. Once your camp officially depends on one software solution, all your camp data will be centralized in one place. Keeping your camp data in the cloud means that all information is always available and up-to-date, no matter where you are. For instance, if you quickly need medical information on a specific camper, any of your staff members can access this data easily.
Compile comprehensive reports. The more comprehensive your management software is, the better your reports will be. If your camp management platform handles everything from registration to communication to programming, you can create reports on each of these engagements. This is great to compare various strategies and pinpoint areas for improvement and areas of success!
Effectively communicate with parents. With full communication capabilities, you can automate, schedule, and even customize emails with parents. It doesn't matter if your camp is a day-camp or a sleepaway camp, communicating with parents is important. Using your dedicated management solution, automate emails based on other processes like when a payment is submitted or a lost password is requested.
Ensure youth protection is a top priority. Having one centralized system is especially crucial if your program works heavily with kids. This way, no urgent camper info gets lost or mixed-up and your entire camp staff has the same knowledge when it comes to any situation.
Collect digital liability waivers. Make sure you can protect both individual campers and your camp as a whole through secure digital waivers.

With Smartwaiver

, parents can sign release waivers online immediately after registration or from an email link as their campers sign up for activities. This way, campers can participate in the events and activities they want while ensuring your organization is

protected from potential liabilities

. It's a win-win!
Offer comprehensive support. With one camp management software system, you only have to contact one support line to pinpoint an issue. This way, if your tools are strewn out between other systems, you don't have to contact multiple support teams.
With all your processes and tools happening in your summer camp management software platform, it's way easier to manage your entire program, campers, and staff. This way, each decision you make and task you perform is building off data that is collected in a centralized place. Read on to learn the essential camp tools your software should have.

Essential Camp Management Software
We've broken down these features and tools based on our most common types of engagements and processes. Learn how your summer camp management software can elevate the camper experience, assist in hiring staff, and securely organize your finances.
Camper Experience Tools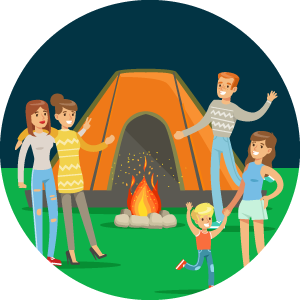 Your campers should be your top priority. From initially learning about your camp to the day they leave, your campers (and if applicable, their parents) should have a smooth and seamless experience. Take a look at your management tools and see if you can perform these tasks:
Capture prospective camper leads. As soon as potential campers visit your website and learn about your programs, use your management tool to capture their info. This way, you can stay in touch and leave room for future engagement.
Customize online registration. Let campers easily sign up online with a couple of clicks. Configure the registration to fit your specific program and ensure that you only input fields that you genuinely require and that you ask for all necessary forms. For more efficiency, let users enroll multiple campers at once. This is great for larger families or schools.
Let campers request roommates. Automate the process of roommate selection by letting campers invite who they want themselves. All they have to do is accept or deny. This saves your staff an incredible amount of work and lets campers shape their own experience. Further, if the roommate request doesn't go through, the system will remember which camper prefers which roommate and house the rest of the campers accordingly. Campers can even request to room with those who aren't in the camp by simply inputting their email. If they accept, this is also a great way to grow your attendance!
Ensure safety with transportation updates for parents. It's not always easy for parents to leave their children in the hands of others, especially if your camp is located in a place with spotty cell signal. Comfort parents by keeping track of campers during transportation to and from camp. Offer them updates during the transportation, whether it's charter buses, shuttles, or flights.
Let campers choose their own camp schedule. Before they officially come to camp, let your campers choose their activities and schedule. This way, campers have the most enjoyable experience and your staff doesn't have to manage each individual camper's agenda.
Automated group and camper scheduling. If your campers don't want to create their own camp schedule, see if your management solution can automate group and camper scheduling. Have a list of activities and a list of campers and watch your camp tool figure out the best solution.
Streamline the check-in/out process. Make sure you know exactly when a camper enters your program and when they leave. Get rid of your papers and check in and out campers with a digital tablet to ensure no data is lost. This way, if a parent calls asking if their child has arrived yet, you (and any other staff member) can answer with confidence.
Offer group leader tools. Group leaders are often tasked with managing their guest groups, whether it's for a retreat or a school group. Elevate the group leader experience with tools to manage their individual group members and to send important information like guest codes out.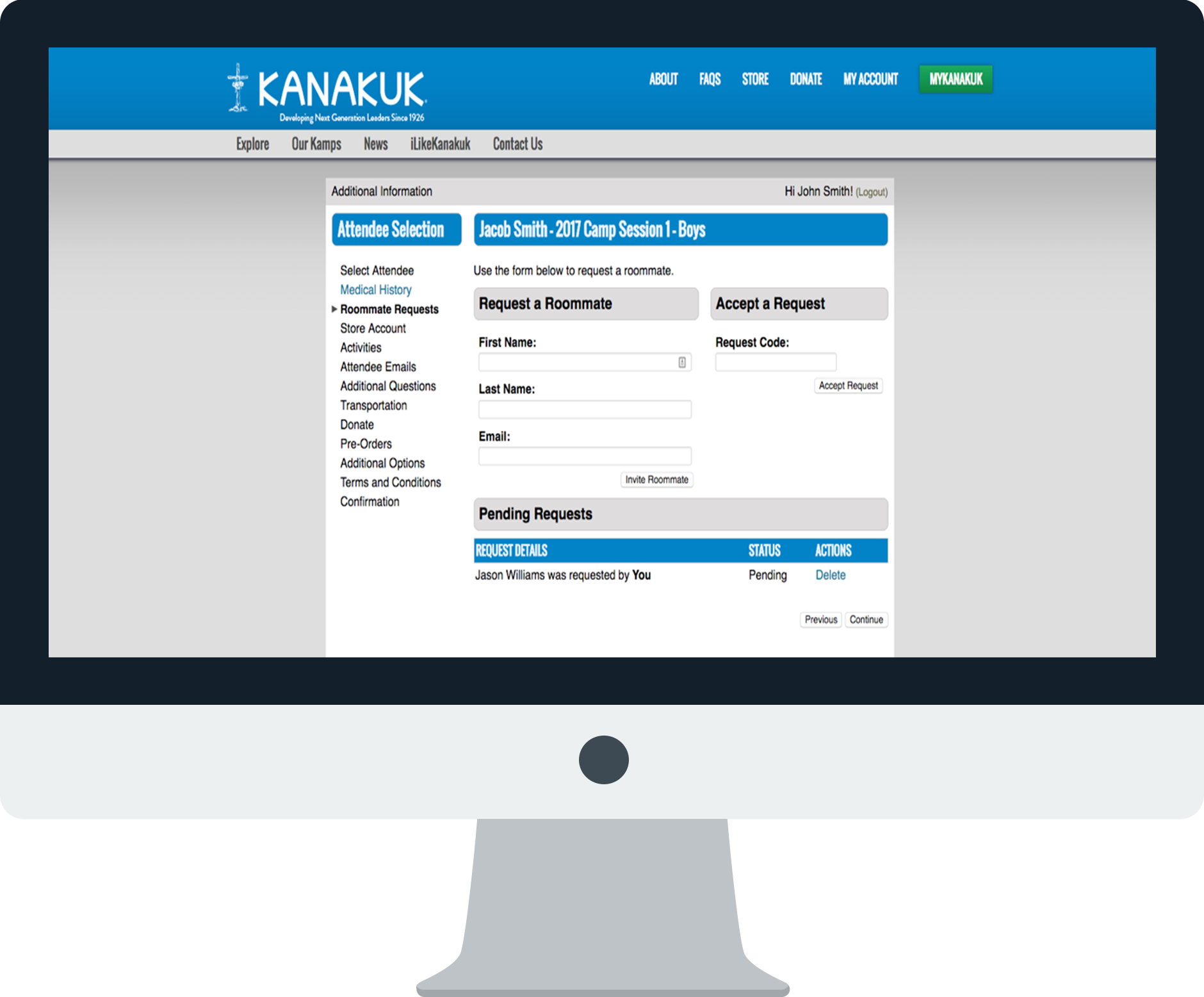 It's way easier to focus on effectively engaging your campers and providing the best experiences when you have tools to handle tedious tasks, collect accurate data, and even improve existing processes like schedule creation and the check-in/out process!
Staffing Features
The more you work in camp management, the more you realize the benefits of a fully capable and dependable staff team. Since your camp staff and counselors are engaging and interacting with your campers on a consistent basis, it makes sense to ensure you have a solid hiring process as well as tools to help manage that. With the right camp management software, you can:
Customize your online application. Ensure each part of your camp staffing application is customized to the specific roles and ask for all the necessary questions. Don't make the mistake of asking for things not needed!
Keep track of interview notes. During the interview process, have a specific section in your system for you to store notes on each candidate. This way, if you're deciding between two potential staff members, you can look back at these notes to help you make your decision.
Automate the reference email process. As soon as someone applies, automatically send out reference questions. In the same system, you can track those responses and add it to their employee record.
Offer positions electronically. To keep the entire process streamlined, send offer letters electronically as well! This is a great way to keep track of those who want to tweak the offer, those who accept, and those who deny.
Facilitate the onboarding process. Once you have a capable group of staff members, now you have to train them. With your hiring process in one system, you ensure that each person on your camp team is equipped with the right knowledge of processes, whether that involves knowing the right ways to work with children or just navigating your camp programming in general.
It's important that your entire staff base goes through the same hiring process and be equipped with the necessary knowledge. Additionally, in one system, you can keep track of each staff member's important details and documents for reference at any time.
Financial Management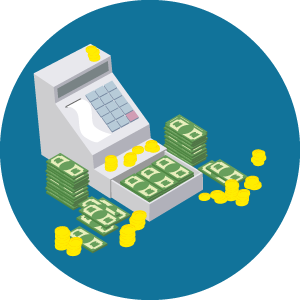 Even if your camper experience and staffing process are the most sublime it can be, they wouldn't be worth it without your software having effective financial management capabilities. Many people are willing to pay the registration fee and attend your camp, but they won't want to if your online payment process is not secure or doesn't accept their method. Consider these top financial management features:
Track and collect payments online. Make sure your summer camp management software can process all payments online, whether that's camper registration, camp inventory purchase, or a camper buying something during the program.
Configure financial reports. With comprehensive and clear reporting, you provide accountability for your camp. It's also a great way to see how your program is doing over a certain time period and to pinpoint areas for improvement.
Automatic discounts and scholarships. Encourage more campers to attend your program with customized discounts with a variety of unique rules and with scholarship opportunities. With your camp management software, you can even automate certain discounts. For example, if you run a promotion where returning campers get a discount, this will be applied even if the registrant doesn't indicate it specifically.
Manage multiple camp locations. Many camp programs span different locations, each with their own tax rate and cost centers. Ensure you can effectively manage all of their finances depending on where they are in a streamlined and centralized location.
Accept donations. Even if your camp doesn't run on donations, it's always a good extra source of revenue to fundraise for your program. Make sure you can accept and track online donations, pledges, and cash gifts.
Accept all types of payments. Let your campers and parents pay in the way they want. Whether that's credit card, debit card, cash, or check!
Manage online inventory. Open up an additional revenue streak with branded camp merchandise! The best camp management tool will be able to track that inventory, keep up with discounts, process those payments, and more.
Equip campers with accounts where they can spend money. Whether you supply campers with a bar-code wristband or enable staff members to simply look up each camper's name, their parents load the camper's account with money to be spent. This way, they can buy snacks and other treats that your camp offers during the program.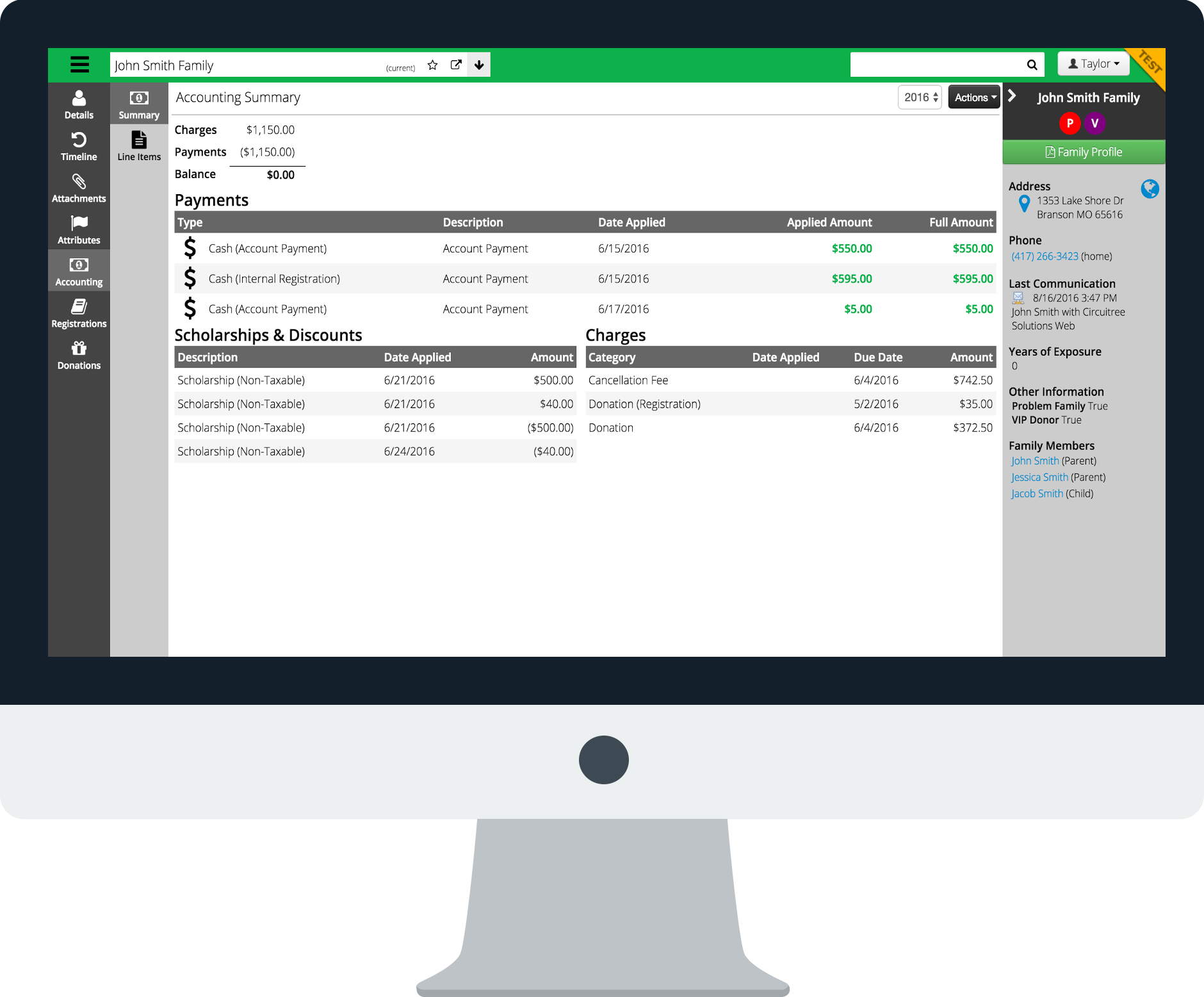 A top-notch payment processing tool and other financial management features ensures that your camp can effectively grow.

Camp Management Software Reviews
As you can see, with a dedicated camp management software platform, you can oversee all activities and make the best decisions going forward regarding your campers and staff. This is where CircuiTree's software comes in.
Don't make the mistake of all of your camp tools existing in separate software systems! With CircuiTree, you can continue to manage your camp knowing that all your data is secure, your campers are safe, and your staff members are qualified.
Still not convinced? Consider these testimonials for our camp management software:
1. Hume Lake Christian Camp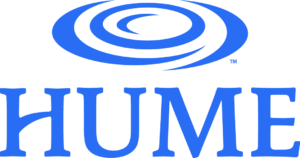 Hume is a popular Christian organization that offers a wide variety of youth camps, adult retreats, and even guest groups. Originally, Hume was having trouble garnering more attendees and spreading the word about their mission.
However, after implementing CircuiTree's software solution, they can not only build effective programming but also optimize some backend processes. Now prospective campers can register for programs with ease and even give back with a donation.
"Thanks to CircuiTree, we are able to ensure our camps and retreats are reaching their optimum capacity, which in turn helps do more ministry and fulfill our mission." - John Hughes, Former CFO
2. T Bar M Camps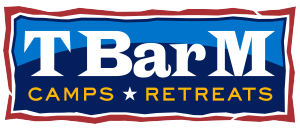 T Bar M is a camp and retreat organization that offers an experience aimed to help the participants grow. Focusing on Christian values and relationship building, T Bar M needed a dependable software solution to effectively attract attendees as well as offer support if needed throughout the process.
CircuiTree provides a handy support page with frequency asked questions and places to submit a ticket or call a live person if needed. A wide resource for any concerns you may have, CircuiTree can help with its 24/7/365 support.
"CircuiTree's software is a robust and feature rich application that is supported by a responsive and friendly team. We know we made the right choice to go with CircuiTree as our camp software." - Jonathan Bradford, IT Manager
3. Camp Woodward
Woodward PA is one of the world's top organizations for training aspiring athletes through summer camps and retreats. With world-class facilities and top programming, Woodward needed a dependable camp management software solution to help manage it all.
With CircuiTree, Woodward is able to effectively increase attendance rates and compile comprehensive reports to continuously improve their strategies.
"CircuiTree has been a game changer for our business. It's made registration, sales, payments, and reporting a breeze. The team at CircuiTree is fantastic! Definitely a 'happy camper!'"- Suzanne Herman, Financial Controller
CircuiTree's wide variety of essential tools and features can elevate your camp management as well. Raise camp attendance, find the best camp staff team, and effectively engage your campers with CircuiTree!
---
With a comprehensive camp management solution like CircuiTree, many camps and similar organizations can optimize the entire process of overseeing activities and providing meaningful experiences to campers.
If you want to learn more on camp management best practices, check out these additional resources: