Camp Management | The Ultimate Toolkit for Summer Camps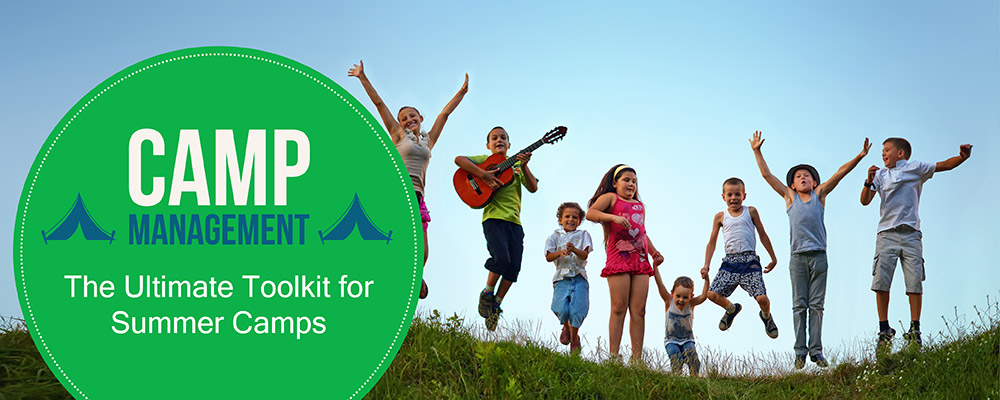 For those who believe in the power of camp, it's no secret what a difference spending the summer as part of a well-managed camp community can make for a young person.After all, when a kid's experience with your camp goes well, they'll bring home a whole season's worth of amazing memories that will last them a lifetime.

Yet, although we all know how important effective camp management can be, seeing your camp's summer session run as smoothly as possible is always a challenge.
That's why we've gathered together our top tips from veteran summer camp management experts to dive deep into what makes a well-managed camp, including offering tips for how to enhance your efforts with the right camp management software.
If your organization wants to make next summer really count, you should:
Think your camp needs a management skills refresh? Check out our awesome best practices so you can give your campers their best summer yet!


1. Get to know your campers.
Let's address this right off the bat: it seems a little obvious for us to tell your team that the key to summer camp management is to know your campers. After all, great service is built off of doing your homework.
Yet, one of the most common challenges camp management professionals encounter is a fundamental misunderstanding of their campers as individuals as well as a group.
Your team might be well-versed in the needs of the general demographics that make up your campers, but if you don't have the tools in place to know your campers on a person-to-person level you simply won't be able to serve them well during their time at your camp.
Our recommendation? Invest in robust camp database software before your next summer session. This way, you'll have time to test the waters with your new platform and find out everything that great camp database can offer your team.
When picking a camp database, keep in mind some of our favorite features:
Camper profiles.

These will be the backbone of your new camp database. Camper profiles record all you need to know about your summer camp's attendees, including biographical information (like their name and birthday), contact information, the

school

they attend, payment history, and even custom information like their favorite colors, books, bands, and other relationship strengthening details.

Electronic health center.

Your campers' health is important, and it's especially important for parents to feel safe sending their children to your camp all summer long. This is why choosing a camp database that prioritizes the health of your campers is crucial. Keep tabs on allergies, medical conditions, and medicine schedules all in one place in your camper database.
Knowing your campers well isn't just about understanding the big picture details. When your team invests in camp database software that takes the needs of your individual campers seriously, you'll be well equipped to build lasting relationships summer after summer.
Even better, having a robust camper database makes camp coordination and camp management training even easier. When all this information is housed in a single system, your staff (both new and old) can easily access what they need to know to manage camper relationships.



2. Empower your campers with self-management tools.
One of the best ways to make managing your summer camp an easier task is by putting the right self-management tools in the hands of your campers (and their parents).
Think of it this way: the more power individuals have over their camp experience, the better suited the experience will be to their needs.
By empowering your campers with self-management software, you also get the added benefit of cutting out the middleman in common camp management activities. Not only does this streamline work for your team, but it also lets campers feel like active participants in your community.
Our recommendation? Find camp management software that takes camper self-management to the next level. Your next management software should be designed to merge the behind-the scenes features your team needs with the camper-facing management tools they need.
Some essential self-management features for your campers include:
Registration.

From the moment your campers start the registration process, they should feel empowered to quickly and easily sign up for your next summer session.

Choose a camp registration software

that lets your team customize registration to fit the needs of your prospective campers. By doing so, the process will be totally unique to who your campers are, and they'll be even

more

excited to complete the process.

Activity management.

Don't put barriers between your campers and the activities they want to be a part of. During and after registration, present your campers with a full schedule of activities they can easily register for. Pick a platform that lets your team filter activities so that your campers are only shown ones they're eligible for. This way, they can sign up for activities as quickly as possible.

Digital waivers. Allow your campers to experience new things and participate in all sorts of fun activities without putting your organization at risk. By placing the

liability waiver-signing process

into the hands of campers and their parents, you ensure the process is as convenient as possible for everyone involved! Plus,

with Smartwaiver

, parents can sign release waivers upon registration or receive a link via email to complete specific online waivers when their child signs up for a new activity.
Your campers and their parents should feel like active participants in the camp experience. By choosing a camp management software that offers self-management features, your campers will never feel left behind.



3. Keep parents in the loop all summer.
As much as parents value their kids' independence, it's no secret that it's tough to say goodbye to your child when they head off to summer camp.
If your camp wants to increase your rate of returning campers each summer, then it's time to take a second look at how you incorporate parents into your camp management strategy.
After all, it's the parents who make the smart decision to send their kids to your camp each season. Your team wants to show parents that you understand their perspective and value their involvement, while still giving campers the room they need to dive head first into their camp experience.
Our recommendation? Find smart, software-powered ways to keep parents in the loop all summer long. With the right tools, there are a lot of ways your team can maintain strong relationships with parents without pulling kids in too many different directions.
Find camp software that recognizes the role parents have to play by offering:
Group registration.

It's not uncommon for parents to register multiple children for your camp's summer session. Make the process easier for them by investing in smart software that allows parents to register children in bulk. Parents can fill out shared information, like their children's home address and contact information, and then fill in the unique details for each camper.

Emails from home.

Your campers' parents want to keep in touch while still allowing their kids to be independent. Try offering parents the ability to

send one-way emails

from home. Campers can access these messages like any other email, but won't be able to send a message back. This way, kids can focus on their lives at camp while parents can still reach out to their loved ones.
All too often, camp professionals forget about the important place parents have in the camp experience. Show parents your camp cares about their part of the process by recognizing them with parent-focused features like these.

4. Focus your camper communication efforts.
Communicating with your campers is one of the most important aspects of smart camp management, but many organizations still struggle to build an effective communication strategy.
The fact of the matter is that how you connect with current, future, and past campers can really set the tone for your summer camp in general, and your team has to get this process right.
If your camp gains a reputation for spotty, unclear, or confusing communication practices, why would parents ever decide to send their kids to your camp again? Or refer your summer camp to their friends and family?
Our recommendation? Adopt camp management software that prioritizes effective communication solutions. With powerful communication tools by your side, your team can easily manage connections with all sorts of constituents.
Your next camp management software should offer:
Email automation.

Reaching out to individuals via email likely forms the heart of your summer camp's communication strategy. Optimize this process by

using email automation software

that's built into your camp management platform. Design, draft, and schedule emails to your campers and their parents. Flow names and email addresses right into your templates to minimize manual input, and use email segments to plan communication campaigns.

Camper prospecting features.

Managing relationships with prospective campers is just as important as staying connected with past and current camper families. One way to streamline camper prospecting is to opt for a management platform with prospecting tools. Manage camper prospect leads by tracking requests for new information, automating email responses, and taking an active role in how new campers join your community.
The way your camp connects with its community can have a lot of impact on your relationships with campers and their parents. Make sure your team is managing these connections well by leveraging powerful communications solutions like these ones.


5. Manage your camp's finances effectively.
There's a lot that goes into effectively managing finances at your camp, and whether or not your team has the right tools to do so can have major consequences on your summer camp's success.
Whether it's processing payments, checking to see if your accounting is in order, or empowering campers to manage their own funds, your team needs to put some thought into your financial management strategy.
When campers and their parents can easily pay registration fees, check balances, and load money onto camper accounts, they'll rest easy knowing that your summer camp has given financial management the thought it deserves.
Our recommendation? Find a camp management software that takes managing your camp's finances as seriously as you do. This way, your team will be empowered with user-friendly, reliable tools to keep your customers happy.
Find a camp software solution that provides:
Robust billing tools.

Not only should your customers be able to seamlessly pay their bills online, but your team should also have tools in place to track the billing cycle from beginning to end. See where new campers are in this process and then automate reminder messages to steer them toward completing their purchase. This way, no one is ever hit with a surprise bill and your team can ensure successful payment.

Convenient store cards.

When parents send their kids off to camp, they want to be confident their loved ones will have all the resources they need. This includes having funds stored for emergency purchases, lunch money, fun toys at the camp store, or any other kinds of products your camp might sell. Choose a camp software that lets parents load money on an electronic camp card so their child can buy whatever they need.
One effective way to ensure campers return again and again to your community is to optimize financial interactions as much as possible. With powerful financial tools like these, your campers and their parents will never have to worry about your camp's financial management.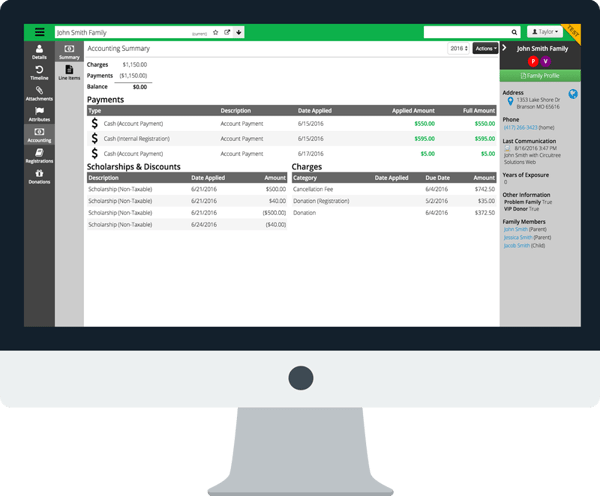 ---
Camp management is so important to get right, and your team will want to have the right tools in place to manage your camp effectively. With these camp software solutions, you summer camp will be ready for any challenge!
Want to learn even more camp management strategies? Check out these additional resources to get started: