5 Essential Camp Database Software Features You Really Need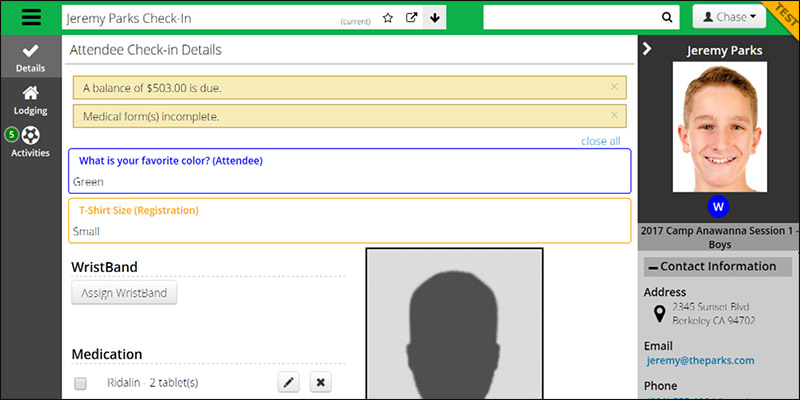 When it comes to managing your camp, even the most experienced camp professionals will tell you that the process can be a huge challenge. From registering campers to overseeing your next camp session, camp management involves a lot of moving parts. What's more, most camp staffs manage their operations through a patchwork system of standalone data tools, often causing confusion behind the scenes.
If your camp wants to take your management strategy up a notch, it's time to invest in a robust camp database system that can handle all of your needs on a single platform.
By investing in centralized and integrated camp management tools, your team will be able to streamline operations and increase efficiency. Without the need to transfer data from one platform to another, you'll avoid common data management missteps and focus on making camp a great experience for your campers.
Think your camp could use a management software upgrade? Check out these essential features to look for in your next camp database software platform:
Your camp isn't just a vacation spot for campers: it's a community. As you plan your next camp session, start searching for the camp database solutions your team needs to manage your camp community with pride.
Ready to find out what camp database software embodies all of those essential features? Look ahead to the final section to find out why CircuiTree is the leading camp management platform.

1. Top Camp Database Feature: Online Camp Registration Tools
Camper registration is one of the first opportunities your team has to collect camper data. Not only that, but registration is one of your camp's best chances to build comprehensive camper profiles that gather necessary information you'll need later down the line.
This is why your next camp database should offer comprehensive tools to optimize the online registration process for your campers.
When your team has full control over how campers register, you can tailor the experience to capture key information for your management strategy, including biographical data, contact information, relationship markers, and more.
Not only that, but the more power your staff has to create a unique registration experience for your camper prospects, the more likely it is that new campers will complete registration with ease. Your campers are unique, so why use a one-size-fits-all registration platform?
As you research camp database software, be sure to pick a solution that offers some of the following registration tools:
Custom registration forms.

Find a camp database that allows your team to

completely

configure your registration forms. Your team should have total control over what fields campers need to fill out, the order in which registration steps are completed, and even the way your forms are branded.

Group registration.

Many of your campers will attend your next session as part of a group. Families might register siblings, scouting troops may register in bulk, or

even schools

may opt to register together. To streamline this process, offer group registration to empower individuals to register multiple campers in the same session.

Integrated additional revenue streams.

Your camp will want to pick database software that allows your campers (or their parents) to load money onto a store account and replenish funds when they run low. These same features should also empower your team to accept gifts during or after camper registration.
Once your campers register, all of their data should seamlessly flow into their unique camper profile. By picking a database solution that is integrated with your camp registration software, your team can count on the fact that you'll already have a robust profile for each of your campers ready in your database as soon as they register. No more lengthy data exporting!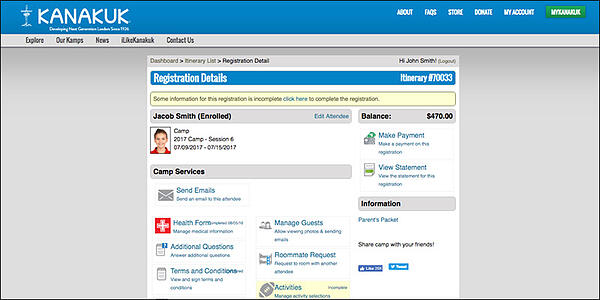 2. Top Camp Database Feature: Financial Management Solutions
Another important aspect of your camper data management strategy concerns financial data. Processing payments, managing your budget, and other financial activities play a big role in your camp's management strategy. After all, if you can't balance your budget, you won't be able to open your doors to campers.
As you research camp database software, be sure to keep in mind your camp's financial management needs.
Before your next camp session, you'll need to be able to process registration payments, connect those payments to specific campers, allocate discounts to those who qualify, and conduct a variety of other payment processing tasks.
For many camps, their financial management tools and camp database software are completely disjointed. This can lead to confusion behind the scenes, especially when it comes time to balance your books. Why not choose an integrated solution?
By choosing a camp database solution with integrated financial management tools, you'll never miss a beat when it comes to your camp's operations. Look for features like:
Billing tools.

Above all, your camp database platform should have the ability to

send invoices or bills to campers

. Not only that, but your software should

also

help your team track customers' progress in completing their payments. This way, you can send helpful reminders to campers who are late in completing payments.

Payment processing.

Find a camp database solution that processes payments online and in person for your camp. Standout camp database solutions integrate with payment processing software like Togetherpay so your organization doesn't have to find an outside payment processing vendor to conduct transactions.

Donations, discounts, scholarships.

Many of your campers receive special discounts or scholarships in order to attend, and some of your campers' parents even choose to make a donation in order to make those opportunities possible. Pick a camp database solution that enables features like these so you can make camp possible for

everyone

.
Above all? These financial management tools should be user-friendly for both your behind-the-scenes team as well as your campers and their parents. Be sure your camp database platform offers them the payment tools they need to seamlessly conduct transactions, whether it's paying their child's camp registration bill or loading funds onto a camper payment card for them to use while they're away.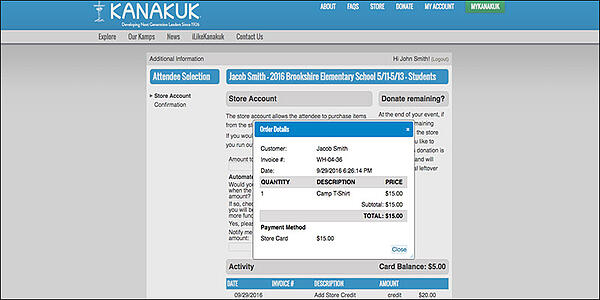 3. Top Camp Database Feature: Camper Management Features
Effective database solutions help increase efficiency across the board at your camp, and there's no better example than camper management features. These include tools that empower your team to oversee your campers and shape their camp experience for the better.
In your next camp database, look for a robust suite of camper management solutions.
Camper management features give your staff useful tools to help automate some of the trickier processes of your camp's operations. For example, one essential feature your next camp database should have is a camper check-in solution.
By automating camper check-in within your camp database, your staff can quickly and easily identify which campers have completed check-in, as well as which ones haven't yet arrived. This information then flows automatically to their camper profile.
Without a check-in feature, your camp database would need to be manually updated to reflect check-in status, leaving lots of room for inaccuracies along the way. Consider these other useful camper management features, including:
Automated housing.

As a camp professional, you probably know all too well how difficult it is to plan camper housing. Taking into account roommate requests and other restrictions, there are a lot of moving parts to the process. Get camper housing right

every

time by automating housing through your camp database.

Transportation tracking.

Keep an eye over where your campers are on their journey to arrive at your camp can be really challenging. Transportation tracking software lets your staff keep tabs on campers as they travel, whether they're flying, taking a chartered bus, or even arriving via airport shuttle.

Electronic health center.

Many of your campers have unique dietary needs or medical conditions your team should be aware of. Choose a camp database that takes your campers' health seriously by offering an electronic health center to compile

all

of your campers' health data. This way, you staff can access it on a moment's notice.
It's simple: your camp wouldn't exist without campers! Show your camp community that your staff truly cares about their experience by leveraging management tools like these. Not only will they help make your job easier, but they'll also contribute to a positive experience for all who attend your camp.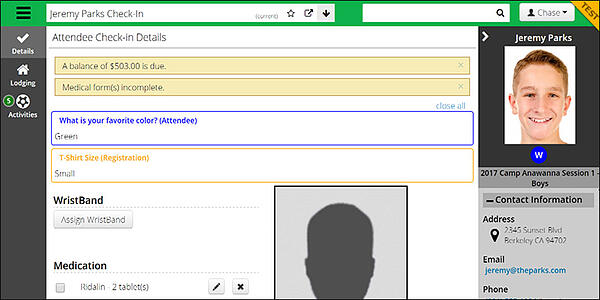 4. Top Camp Database Feature: Communication Software
One of the ways a camp database can come in handy for your organization is by housing all of your campers' data in unique, streamlined profiles. Your team can use this information to shape all aspects of your strategy, from camper management to communication.
Communication software is another useful feature for your next camp database.
Many organizations manage their camper data and communication tools on completely separate platforms. This means that when you plan marketing campaigns or camper email streams, you'll need to keep going back and forth between two systems.
Instead, your team should choose an integrated camp database solution that offers its own communication tools. This will help your staff save time when planning your communication efforts, as well as give your team more control over how you connect with customers.
This last point is especially important. When your team has full control over your messaging, you'll be able to offer a more tailored experience to campers and camper prospects.
Make sure your next database platform offers:
Email automation.

Draft and schedule targeted emails

for your community

based on important interaction triggers, like a pending camp registration or an overdue balance. This way, your staff can ensure that the right messages reach the right customers at the right time.

Salesforce integration. Salesforce is one of the most popular cloud-based CRMs out there, and for good reason. Organizations of all shapes and sizes love using Salesforce's marketing automations to manage relationships with their communities, so be sure to choose a camp database that integrates with Salesforce's popular software.
Emails from home. Once your campers have arrived for their session, your communication journey isn't over yet! Not only should you keep in touch with parents, but you should also empower parents to keep in touch with their campers. Choose a database with the power to send one-way emails from home so families can stay connected.
Keeping your campers (and their families) in the know when it comes to your organization is absolutely essential. One of the biggest roadblocks faced by camps is optimizing their communication efforts, so your team needs the right tools to get the job done. With an integrated camp database that offers communication software, you'll be able to perfect your communication strategy from the ground up.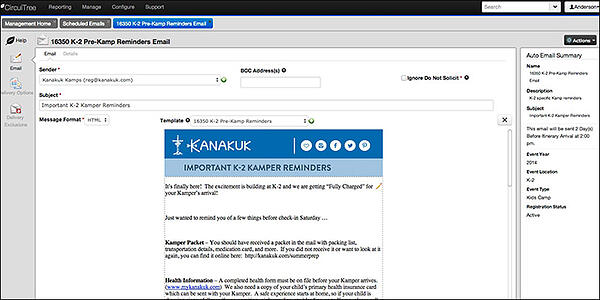 5. Top Camp Database Feature: Centralized Integration
On that note, let's dive into why adopting an integrated database is so important. There's a lot that can be said about the benefits of having a robust camp management platform with a wide variety of features, but if those features don't work together, you're really not getting all you can out of your camp software.
As you search for your next camp database, you should be on the lookout for camp database software that offers a truly centralized integration.
This means that each and every feature, from registration, to financial management, to camper management and your communication tools work in tandem. Let's consider a real-life example of how this might play out for your camp.
When a new camper registers for your next camp session, their data shouldn't just be logged in their camper profile. Rather, that data should trigger actions across your entire camp database system, like an emailed billing notification or a prompt to complete their health form.
This way, each of your campers and camper prospects will have consistent experiences when interacting with your camp database software. Not only that, but a centralized integration will help your team:
Streamline operations.

Instead of needing a dedicated staffer to handle marketing, a separate individual to run registration, and yet another to manage your finances, you can keep your operations as streamlined as possible by choosing a centrally integrated camp database platform.

Manage the camper life cycle.

With a centralized integration, your team will have a better understanding of a camper or prospect's position in the camper life cycle. You'll always know exactly when they've interacted with your system and their complete camper history, so you can better predict what their next steps with your camp may be.

Conduct reporting and analytics.

An important part of optimizing your camp's strategy behind the scenes is conducting reports and analytics on your operations. When your camp database is centrally integrated, your

reporting tools

will be able to take into account every aspect of your camp strategy, not just individual areas.
The bottom line? Your next camp database software should provide all of the important features listed in this article, plus offer a truly centralized integration. When your camp's tools actually work together in the same system, your staff will see a world of benefit to your software strategy.

Essential Camp Database Software: CircuiTree
For camps that are ready to take their software strategy to the next level, consider CircuiTree's leading camp database software.
CircuiTree is the only camp management software platform that empowers camps like yours with all of the features listed in this article (and many more).
When your camp partners with CircuiTree, you can create a completely customized software suite that's tailored to your organization and its unique needs.
Not only that, but CircuiTree's team of camp management experts will be with you every step of the way from implementation onward.
For camps that invest in CircuiTree's robust camp management software, you won't simply have access to a full range of user-friendly camp software tools. Rather, you'll be adopting the last camp management platform you'll ever need.
---
Camper data is at the heart of your camp management strategy, and your staff should have the software tools you need to make camp an impactful experience for your whole community. With these essential camp database features in mind, your team is ready to make the right decision as you choose your next camp software.
Want to learn more about camp management software? Check out these additional resources to get you started: