Press Release: CIRCUITREE, Bunk1 Partners with Gathr Outdoors to Help Elevate Summer Camp Experiences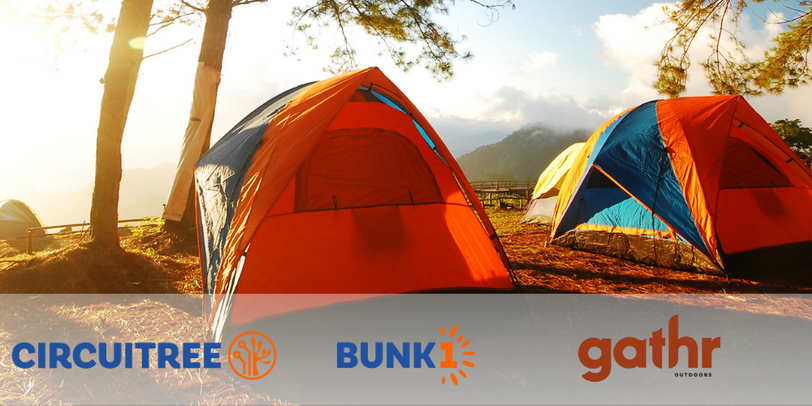 Over 85,000 Families Will Now Receive Exclusive Savings On Trusted Outdoor Equipment & Gear
NASHVILLE, Tenn -- Gathr Outdoors, a family of outdoor, camp and recreation brands committed to celebrating shared outdoor experiences, along with CIRCUITREE and Bunk1, the trusted leaders in camp management software and parent portal mobile apps respectively, today announced a partnership to elevate summer camp experiences.
Through CIRCUITREE and its Bunk1 parent portal mobile app for camp managers, Gathr Outdoors is offering discounted pricing on required camp packing list items from its family of brands, including GCI Outdoor, Klymit, ORCA and more. To realize savings, parents will simply enter a code at checkout via the dedicated landing page.

"Outdoor adventures - whether big or small - bring people together to help create lifelong memories, and Gathr Outdoors is dedicated to ensuring that time spent outside is as comfortable and convenient as possible," said Keith Bornholtz, Chief Executive Officer, Gathr Outdoors. "Our CIRCUITREE and Bunk1 partnerships further that commitment by making it more accessible for families to introduce their kids to the outdoors, fueling their growing passion with trusted equipment and gear by their side."

CIRCUITREE's powerful camp management software, which includes its parent portal mobile app Bunk1, streamlines all operations throughout the camp season with easy-to-use solutions that help fully automate registrations, enrollment, inventory, staffing, communications and more.

"By streamlining camp registration and communication via CIRCUITREE and Bunk1, we're able to keep parents, campers and staff connected throughout the entire camp experience," said Rob Burns, VP of Business Development, CIRCUITREE and Bunk1. "We're thrilled that this partnership not only connects parents and camps to Gathr Outdoors' diverse roster of trusted brands but extends exclusive savings that help fuel early access to the outdoors."

For more information about Gathr Outdoors, visit www.GathrOutdoors.com and for more information about CIRCUITREE and Bunk1, visit www.CIRCUITREE.com.
About Gathr Outdoors Inc.
Gathr Outdoors, a portfolio company of Centre Partners, is a diversified global designer and manufacturer of outdoor camping, recreation products and equipment headquartered in Nashville, TN with offices across the United States, Europe and Asia. The Gathr Outdoor family of brands includes ORCA™, GCI Outdoor™ Klymit™, Cascadia Vehicle Tents®, Rightline Gear, PrideSports® and WaterPORT™. With a deep-rooted belief that outdoor adventures - both big and small - are more powerful when shared with others, Gathr Outdoors products help contribute to the shared, soul-filling experiences that can only come to life outdoors. For more information on Gathr Outdoors visit: www.GathrOutdoors.com.
About CIRCUITREE
CIRCUITREE is a trusted leader in camp management software, streamlining operations with easy-to-use solutions that fully automate registrations, enrollment, inventory, staffing and much more. With over 25 years of camp management experience and headquartered in Branson, MO, CIRCUITREE includes its parent portal mobile app, Bunk1, to help camp staff and parents communicate in real-time and share photos, schedules, cabin assignments and other information about ongoing camp programs and activities. CIRCUITREE and Bunk1 help camp managers spend less time on administrative tasks, and more time creating lifelong memories with their campers. For more information on CIRCUITREE and Bunk1 visit www.CIRCUITREE.com.

SOURCE Gathr Outdoors, CIRCUITREE