Picking Your Sports Camp Software: Our 2022 Recommendations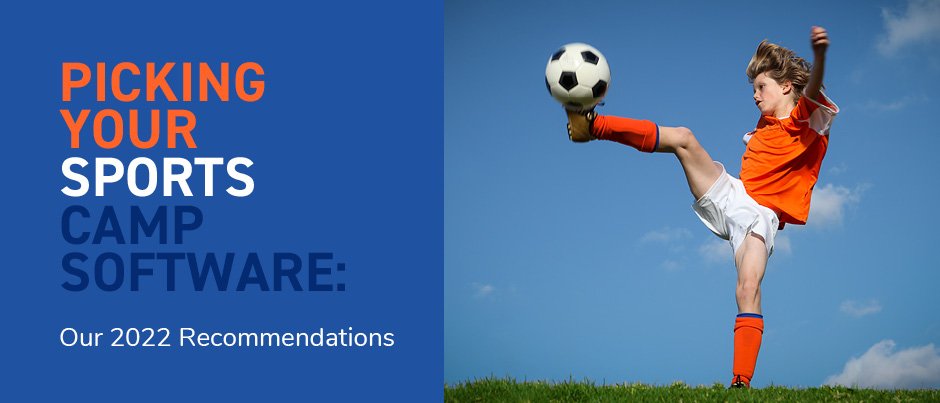 It's the first day of your summer baseball training camp, and things aren't going as smoothly as you'd hoped. Athletes are arriving in droves, and the line for check-in stretches out the door of your camp office as staff members scramble to find athlete information in mile-high stacks of paper. Soon your athletes are standing around, unsure of who their coaches are, and they're starting to complain. It's going to take a lot of work to get the day back on schedule and ensure your athletes leave their first day with a positive impression of your camp.
No matter how many times you've directed a sports camp, you know that unexpected problems like these can crop up. Processes get disorganized, athletes get injured and must go home early, games or workouts get rained out — the list goes on.
The good news is, with the right camp management tools, you can mitigate or solve many of these problems and get back to what you love doing most: working with your athletes to improve their skills and make great memories.
That's where sports camp software comes in. At CIRCUITREE, we've seen firsthand how sports camp software can make a big difference in how you run your camp. That's why we've created this guide to sports camp software with our recommendations for 2022. Specifically, we'll explore:
If you're ready to learn why sports camp software can be a valuable tool for your camp, this is the post for you. Let's dive right in!


roadblocks to success: why you need sports camp software
No camp coach wants to be dealing with frustrating problems around the clock. When you and your staff are stretched too thin running camp and troubleshooting your operations, camp is no longer fun for anyone. And there is a myriad of problems you might face, including:
Problem #1: Messy recordkeeping and organization: Filing cabinets full of registration forms, medical information, waivers, roommate requests, and more can be cumbersome to store. Plus, when you need information about a specific athlete, the hunt for that information can feel like looking for a needle in a haystack.
Problem #2: Struggles connecting with athletes' families: Your athletes are your number one priority, but for younger groups, their parents are your customers. If your registration process is messy, your communication infrequent and unclear, and your athletes go home without having had an amazing camp experience, it's likely parents won't be signing their kids up next year.
Problem #3: Difficulty establishing a professional camp brand: Unfortunately, even unintentional disorganization can leave your camp looking unprofessional, no matter if you have the best coaches, the latest drills and workouts, or the coolest new activities.
Problem #4: Low staff retention rates: When your camp isn't run well, you'll have a hard time getting coaches to return for future seasons.
Problem #5: Low camp registration numbers and inability to scale up camp operations: A lack of organization, professionalism, and customer satisfaction can make it nearly impossible to increase your camp's reach.
Luckily, there's a solution: sports camp software. Sports camp management software is the technology that takes the stress out of running a sports camp and puts you back on the field, in the pool, on the track, or in the gym with your athletes. With sports camp software that provides features that streamline all of your operations, you can say goodbye to the problems mentioned above:
Problem #1: Messy recordkeeping and organization.

Solution: Stacks of paper are a thing of the past. Sports camp software can help you take everything online, from camp registration to travel arrangements home.

Problem #2: Struggles connecting with athletes' families.

Solution: Look for sports camp software that keeps parents in the loop. For example, a parent portal can help create a more positive customer experience for families of younger athletes, allowing parents to see camp highlights and monitor camp happenings, meaning you'll retain athletes for future seasons.

Problem #3: Difficulty establishing a professional camp brand.

Solution: The best software will empower you to customize your website, registration experience, and email correspondence, ensuring that when athletes think of sports camp, they think of you.

Problem #4: Low staff retention rates.

Solution: The right sports camp software will help you streamline the hiring process, evaluate your staff, and make it easier for them to do their jobs.

Problem #5: Low camp registration numbers and inability to scale up camp operations.

Solution: No camp can succeed without a solid approach to marketing, one that helps you identify where your potential athletes are and helps connect you with them. Sports camp software can help you grow your camp's reach.
An all-in-one sports camp software is built to deal with all the problems sports camp coaches face. This is why it's critical to choose your software carefully. Read on for the software the CIRCUITREE team recommends for your 2022 camp season!

THE BEST SPORTS CAMP SOFTWARE: ABC SPORTS CAMPS - powered by circuitree
Shopping for sports camp software is easy when you know about the best solution around. That's where ABC Sports Camps comes in!
CIRCUITREE users can now harness the capabilities of ABC Sports Camps, which means you get the power of two solutions in one — the CIRCUITREE summer camp management features you know and love, plus the sports camp capabilities from the experts at ABC Sports Camps. Check out the features you'll be able to put into play when you partner with ABC Sports Camps - powered by CIRCUITREE:
ABC SPORTS CAMPS FEATURES: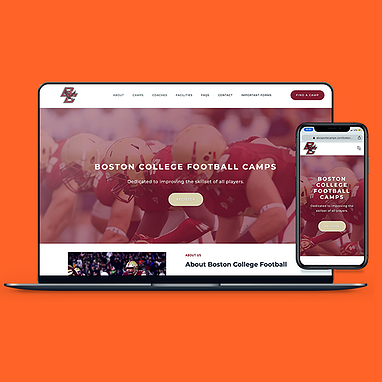 Custom Mobile-Responsive Websites: ABC Sports Camps knows how critical your camp website is to the success of your season. Their team can build your camp website within only three business days. The best part? They take the reins and manage it for you — for free. This means you get a professional-grade website that can help you effectively reach and recruit your athletes, all without having to lift a finger.
Professional Marketing Services: Training as many top athletes as possible is every coach's dream, which is why marketing is so important for sports camps. When you use ABC Sports Camps - powered by CIRCUITREE, you'll be able to work with a team of marketing professionals who can help you with the email and social media marketing that will connect you with more athletes. Plus, the ABC marketing team comes equipped with the knowledge of SEO (search engine optimization) best practices, ensuring that your camp will be found by athletes searching the web for camp options.
Online Registration. There's no need to worry about piles of paper with ABC Sports Camps. On top of making registration a user-friendly online process, ABC Sports Camps empowers athletes and parents to easily register for multiple camps at once, pay deposits, apply discounts, and get automated confirmation emails.
Simplified Staffing. Streamline your hiring process, taking your job postings online and automating reference outreach. With our tools, you'll be able to hire the best of the best and evaluate their performance.
Event Management Tools: You'll be able to see and manage camp rosters and get emails when new registration forms come in, meaning you and your staff will be on the top of your game when it comes to managing your camp activities schedule, roommate requests, and more.
Custom Forms and Reports: The data you gather from your athletes and your camp operations is the information you need to make informed decisions about the future of your camp, so you need the right tools to make that information work for you. Create custom forms and reports that you and your team can browse online or download to Excel so you can determine how to move your camp forward.
Support Along the Way: ABC Sports Camps knows that a good coach sticks with their athletes every step of the way. This is why the ABC team offers support for everything from website issues, event management, customer concerns, and more!
ABC Sports Camps - powered by CIRCUITREE can make your 2022 sports camp season a success, erasing the everyday (and not-so-everyday) roadblocks you encounter as a sports camp coach. We're passionate about making sure camp is a great experience for everyone involved, including athletic directors, coaches, staff, athletes, and parents. Our solution can help you knock camp out of the park!
Explore more ABC Sports Camps - powered by CIRCUITREE features here.
wrapping up
If you're ready to combat the stress that can arise from running your sports camp, it's time to invest in sports camp software that can do all the heavy lifting for you. As you shop for your solution, remember to consider the needs of your athletes, their families, and your staff. The software that is best for you will help you meet their needs and give you the resources to eliminate problems before they can get in the way of your camp operations.
ABC Sports Camps - powered by CIRCUITREE is the best solution out there. With features that take the complications out of registration, marketing, and general camp management, our solution is sure to be the MVP of your camp season. Get the ball rolling on better sports camp management by booking a demo today!