Summer Camp Staff Training: A Complete Guide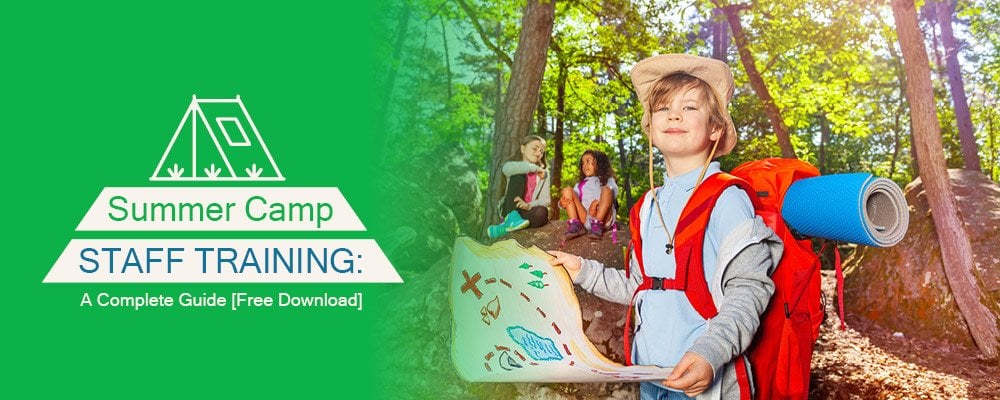 Summer camp staff training can be tricky, but it has the power to make or break your camp. An excellent summer camp staff will propel your camp toward greatness with lightning speed. However, an unprepared and untrained staff can be hugely detrimental for your summer camp.
Don't let your camp be held back by insufficient staff training when you can easily foster the leadership abilities of your young staffers to create a safe, fun, and supportive environment for your campers.
But, you may be wondering: how do I successfully complete summer camp staff training?
The answer is simple: CircuiTree's summer camp staffing software tools can help manage the difficulties you may encounter as you train your staffers and manage your summer camp. This guide will walk you through all the best ways to navigate your summer camp staff training with ease.
When preparing to embark on your summer camp staff training journey, you may ask yourself:
This guide will answer your top 5 summer camp staff training questions and give you all the information you need to get started preparing your team for success!

1. How do I successfully conduct summer camp staff training?
Your summer camp is unique. You have your own camp culture and philosophy that shapes the way your camp operates. Through your training process, your staff-in-training should not only become aware of staff expectations and responsibilities but also fully understand the underlying mission of your camp.
It can be difficult to gauge the outcome of your staff training if you do not know what to look for. You may want to consider tailoring around some core goals. These might include:
Increase engagement with the staff.
The activities and exercises that you do with your staff should enhance your relationship with your staffers. The staffers should feel comfortable discussing their work experience with you in a safe, professional environment.
Your staff is such an important part of your summer camp. Without them, your camp simply could not function. You want to maintain a healthy, open relationship with your staffers that encourages them to return each summer.
Encourage a safe camp experience for the campers.
Your staff must be prepared for anything the camp throws at them. Your summer camp staff training needs to provide a robust educational experience that reinforces their understanding of camp emergency and safety policies.
Parents are entrusting their children to you, maybe even for weeks at a time, and your staff should not take this lightly. Throughout the training process, you should highlight the importance of camper safety and outline the steps that staffers can take to ensure the camp maintains a safe environment.
Enhance staff leadership qualities.
The typical camp staffer is a teen or young adult in their early 20s. Their position with your camp is likely their first job, and as such, their first real responsibility. You have the opportunity to help foster leadership qualities in your staff that will better equip them to continue their education or career.
You should not have to hold the hand of any of your staffers as they complete their tasks. Giving your staff some freedom to manage their own responsibilities will give them the experience they need to become leaders in their community and help them gain the confidence to do so.
Provide your staff with the necessary resources.
Once your staff completes their training, they should feel ready to tackle the first week of camp with confidence. This means they have every resource they may need at their fingertips so they can focus on providing the campers with fun camp memories they can remember for the rest of their lives.
You can accomplish this through a comprehensive manual that outlines all of the camp information. However, it is essential that you also have a summer camp software tool that enables your staffers to access information about individual campers and the camp as a whole.
With the right summer camp staff training processes and goals in place, you will be able to successfully train staff members who will effectively facilitate an amazing camp.

2. How do I get to know my team with summer camp staff training activities?
Getting to know your staff and forming lasting relationships with them is the best way to ensure the success of your camp and the return of your staffers year after year.
You should make an effort to get to know your staffers and encourage them to get to know each other. Summer camp staff training activities that focus on team building and getting to know each other are valuable assets to your training process. Establish trust and build two-way relationships by learning about who you are employing.
Consider the following summer camp training activities as you plan your training strategy.
The Story of Your Name
Everyone's name has a story behind it. Whether you were named for your grandparent, or a movie star, or your parent's best friend, there is a reason why you have your name.
Invite your staffers to share the story behind their name. These stories may be personal and they provide an excellent way for individuals to talk about their family and their history. Even if the staffer prefers not to dive into personal details, the act of storytelling still allows them to get comfortable with talking to others about themselves, no matter the depth.
Wrapped Around My Finger
Raise your hand if you have ever experienced anxiety at the idea of public speaking. It's okay— you can be honest. Public speaking is a real fear for a lot of people, and this activity attempts to make the staffer more comfortable as they speak.
For this activity, you will need a piece of string that is roughly 3 feet long.
The activity itself is simple. Each staffer will take turns holding the string. As they talk about themselves, perhaps answering questions you have posed to them, they will wrap the string around their index finger until the string covers their finger.
Nervous fidgeting is a real coping mechanism for a lot of people and the act of wrapping the string around a finger is proven to distract the part of the brain that controls anxiety. The string provides a controllable time frame for the staffer's introduction and helps lessen their anxiety — all while you get to hear a fun story or personal information about your team member!
Team Trivia
This is a perfect game to play toward the end of your summer camp staff training process. You can tell a lot about a person by the kind of things they like and this game explores how well people can be identified based on their favorite fun facts.
For this activity, you should ask all of your staffers to send you a unique, obscure fact that they find absolutely fascinating. Be sure to specify a deadline for all submissions. Then, you should randomize the facts and send them to every staffer.
When you come together for a team meeting, you can read each fact aloud and listen as people try to match a staffer with the fact they sent in. You may hear hot debates over who they think sent in a certain fact, or be surprised by someone's trivia contribution. Continue until all facts have successfully been matched to a staffer
No matter what, you will have learned more about the interests of your staffers and what random facts they think are awesome — and you'll learn a bunch of new trivia facts!
The Imposter
No, you are not training a bunch of con artists or encouraging identity theft, but this activity will allow you to get to know your staffers as well as promote team building.
This activity will require a set of notecards and pens.
Instruct your staffers to write three facts about themselves onto their notecard. Make sure they do not put their name on the notecard. Collect the notecards when they are finished. (Pro-tip: only give them a limited number of pens so they have to interact with one another to complete this task).
Distribute the cards randomly and allow the staffers to read the facts on their card aloud to the group. The group will then try to guess who the card is referring to. Allow three guesses and then have the staffer reveal themselves.
Allowing the cards to be read randomly will likely lessen any nervousness about speaking in public and about sharing personal details. This activity also allows the staffers to work together to guess the correct answer.
Summer camp staff training activities are very important for the creation and cultivation of camp culture. Do everything in your power to encourage a healthy staff community, including getting custom t-shirts to bring your team together. The attitude of your staffers will help set the tone for the rest of the camp so you should nurture healthy staff relationships and know the people you employ.


3. How do I design a summer
camp staff training agenda?
Your summer camp staff training agenda will be the driving force behind your training process. It will answer the questions:
What should I do?

Outline the activities you will be doing, preferably with a brief explanation of the goals you wish to accomplish by performing this task.

When should I do it?

Make sure you have specified the order of the tasks and activities each staffer must complete.

How should I do it?

Your agenda should contain an explanation about how you are going to complete each task.
You should incorporate your staff team building activities throughout the summer camp staff training agenda. As you plan your agenda, follow these steps: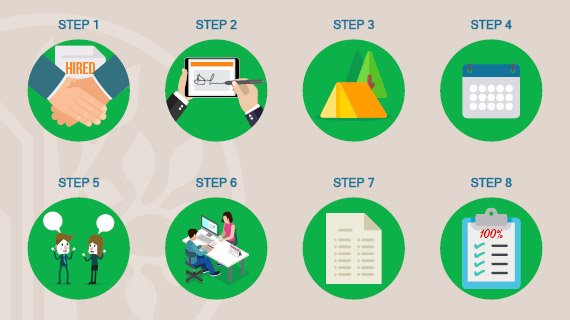 Step 1: Hire your staffer.

The training process starts the moment the staffer is hired.

Step 2: Establish staffer with HR.

This is your first step after hiring. Make sure the staffer is officially brought onboard by the HR department. This will include ensuring payment and tax information is completed as well as any signing required forms.

Step 3: Discuss camp values and expectations.

You should walk your staffer through the reason you started this camp and what needs you think it meets in your community. Make sure you explicitly what is expected of members in each role and how they work together to accomplish the camp's goals.

Step 4: Outline the day-to-day camp schedule in timed increments.

Your camp should operate like a well-oiled machine and this starts with providing all your staffers with detailed information about the daily management and schedule of the camp. Give staffers an outline that is divided into 15-30 minute increments for maximum effectiveness.

Step 5: Situation role-playing activities.

Conduct role-playing activities with your staff that prepare them to engage with the campers. Ask them to respond to specific situations that could arise with campers such as a camper getting sick in the middle of the night or a camper's negative attitude affecting the rest of the campers.

Step 6: Debriefing.

Make sure to discuss the staffer's situation responses to ensure they are aware of their engagement strengths and where they have room for improvement.

Step 7: Assessment.

You should do a tangible assessment of the staffer's knowledge of camp policy at the end of the training period. This will gauge how much information they have retained and how prepared they are to begin the summer.

Step 8: Progress report.

The final step of official training process should be a one-on-one meeting with the camp director or training specialist that covers the progress of the staffer and answers any questions the staffer may have as they head into the summer.
Your summer camp staff training agenda will guarantee that you cover everything you need to in order to facilitate an easy on-boarding transition for your staffers.

4. What do I highlight in my summer camp staff training manual?
Your summer camp training manual should be your staffers' one-stop-shop for information. They should be able to find answers to all of their questions about the running of the camp in the pages of the manual.
Don't forget to make sure your manual has a clearly labeled table of contents so that you and your staffers can easily navigate the text.
You should include any information you find pertinent to your specific camp. However, you may also want to consider including the following:
Camp ideals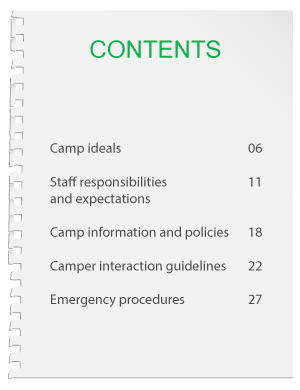 What makes your camp unique?
Your staffer should always have access to the story of your camp. You should write a brief explanation of your camp's history and emphasize its core values. This will help direct the staffer's actions as they assimilate into your camp.
Staff responsibilities and expectations
What is expected of each staffer?
Your summer camp staff training manual must contain a list of responsibilities and expectations for every position on staff. These positions could include:
Camp counselors

Custodial staff

Lifeguards

Administration

Nurses
Regardless of what position each person holds, they should be able to see the list of responsibilities and expectations for each position. This will ensure each member is aware of and values the work done by their peers. It will also help staffers understand how everyone must work together to facilitate an amazing camp experience for the campers.
Camp information and policies
Make sure to include a section that provides a detailed description of your camp's basic information and policies. Specify the dates of each camping session as well as the incremental breakdown of each day within the session.
Additionally, you should be very clear with camp policies. These include:
Dress code requirements

Work hours

Breaks

Visitor allowance

Attendance
Don't open yourself up to any misinterpretation of your rules and policies. Make sure you are as clear and specific as possible to ensure the success of your camp.
Camper interaction guidelines
The staff that you hire will be working closely with a wide range of children. Anytime you are working with children, you must have a strict set of rules to protect the child, the staffer, and your camp. Make sure to outline your rules for this in excruciating detail so there are no mix-ups.
You may want to repeatedly emphasize the Rule of Three. Instruct the staffer to never find themselves alone with a camper. There should always be at least one other person with you. This person can be another camper or another staffer. This guarantees that no one will find themselves in a situation that could be compromising for themselves or the camp.
Emergency procedures
Your summer camp training manual should have clearly labeled emergency procedures for the staffers to follow to protect the safety of the campers.
Emergency situations may include:
Inclement weather

Sickness

Fire

Dangerous wildlife
With a clear summer camp training manual, no staffer will feel unprepared throughout the summer. They will always have access to the information they need to successfully manage their campers and further the goals of the camp.


5. How do I streamline the summer camp staff training process with camp management software?
By now you may be thinking: how am I going to juggle executing summer camp staff training ideas and managing the camp?
Wouldn't it be nice if there was an easy answer to this question? You are in luck because the solution is simple: camp management software!
The best camp management software will have a robust set of tools that will aid your staffers in their tasks.
You should be able to utilize the software during the training process to: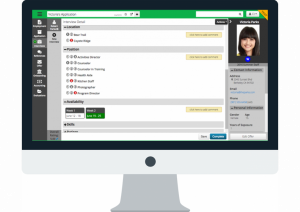 Create a staffer profile. Keep all staffer information in a centralized location for easy access and analysis.

Manage online applications.

Completely digitize the application process with customizable forms.

Take interview notes.

Prepare interview questions ahead of time and fill in the answers during the interview for easy reference.

Extend electronic offers.

Offer customized positions electronically and have them accept digitally.

Analyze staff performance.

Evaluate staff performance and make changes based on real data to ensure the success of your camp.
However, your staff will need to be familiar with the software as well because they will be primarily using it throughout the camp. They will need access to:
A centralized database.

Your staff should be able to easily access and manage camper information at any point during the summer.

Integrated communication tools.

Staffers must be able to communicate with campers and parents. Communication tools may include sending scheduled emails, automated emails, and mass emails.

Electronic health center.

Put parents at ease with a software tool designed to manage the camper's health. With a quick scan of the camper's personally tailored wristband barcode, the staffer will have complete access to any pertinent medical information that could be useful in an emergency.

Reporting and analysis tools.

Your staffers should have access to every detail of your camp's business in one comprehensive report. Understanding your camp data can help administrative staffers make educated decisions for the future of the camp.
You must put power into the hands of your staffers by equipping them with the right software tools. You will no longer need to have separate individuals in charge of tasks like marketing, registration, and finances. Just streamline the operational process by providing all staffers the resources they need to perform each task effectively and efficiently.
Your staffers should feel completely prepared for any challenge they may face during camp. The best way to prepare your staff is to provide them with the proper training they need to utilize the software tools they need to succeed.
---
Summer camp staff training is an incredibly important part of managing your summer camp and cannot be overlooked or ignored. Equipped with the right tools and knowledge, your staff will be prepared to overcome any camp challenge.
For more information on summer camp management, check out these resources: