The Essential Guide to Marketing Your Niche Business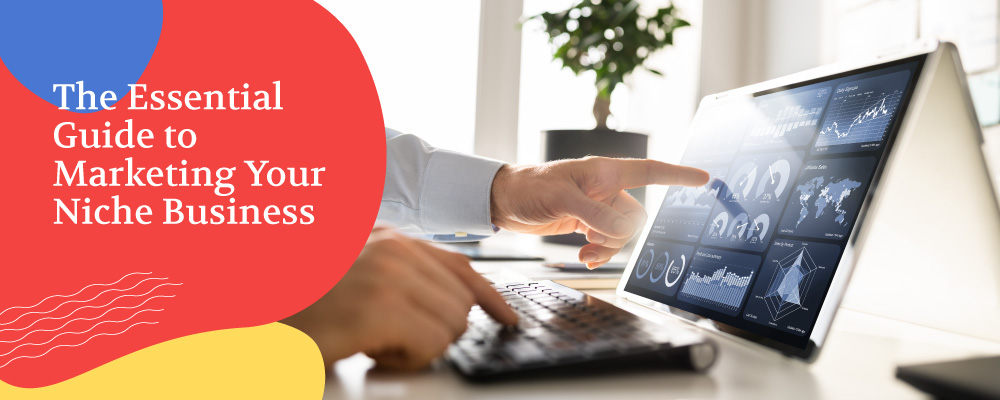 How do you make your business stand out from the pack? One approach that regularly sees tremendous success is to focus on a niche market—such as a dance camp for adults or a doggy daycare with self-service washing stations—that you already serve.
When your business targets a hyper-specific product or service to a hyper-specific audience, you benefit by preserving valuable resources, reducing industry competition, increasing public visibility, and enhancing your customer relationships.
While you may be familiar with the idea of niche marketing, with the help of this guide, you can better put this approach into practice. We've broken down the process of marketing your niche business into two main steps:
Selling to a niche market is a way for your business to stand out from competitors and establish positive recognition in your industry. As a result, you position your business as the authority in your industry for that niche audience and attract more customers to purchase your products or services.
1. Defining Your Niche
It's difficult to market a service when you're not exactly sure what you're marketing or who you're marketing to. Before you start advertising your niche business, specify exactly what your niche is and what sets it apart from other businesses in your industry. To define your niche, take the following steps:
A. Consider What You're Already Doing
Instead of trying to break into a brand new niche, consider the people and businesses you're already serving. Reflect on the unique attributes and strengths of your brand and business. Are your camp attendees from a specific area or city? Is your dog kennel already offering grooming services?
During this process, you should ask yourself:
"What specific problems do I solve?"
"What problems can I solve better than my competitors?"
"Where does my business excel?"
"What do I know a lot about?"
"What excites me the most about my business?"
"Who do I like to serve?"
If you're not excited about your niche, customers can tell! For example, your camp's attendance will likely suffer. Your kennel will lose repeat customers.
By the end of this step, you should understand the foundation—the products or services you'll offer—of your niche.
b. Identify Your Target Customers
Once you've evaluated the services and products your business offers, take a close look at your existing customer base. Instead of trying to reach everyone, focus on those people that regularly bring in the most revenue and locate the cross-section of their interests and the specific services and products you offer.
In this sense, a summer camp might review its registration forms to determine the campers that come for multiple sessions or return year after year, as well as families that register multiple kids.
From there, use your customer database to learn more about these customers and create personas based on a range of criteria, including:
Location
Profession
Hobbies
Purchase history
Need
Politics
Income
Age
Education
Religion
Spending behaviors
Style
Culture
While synthesizing your data and building your customer personas, consider what features make them distinct and stand out from other groups. For the clearest picture, make sure your data is accurate and up-to-date, and append incomplete or sparse customer data with additional vectors using a third-party provider.
By focusing on a small target audience, your business can efficiently set up a budgeting system and direct resources to bring in and retain those who need your products and services most.
C. Research and Analyze Your Competition
With your niche product/service and audience in hand, you should now consider your competition. Ideally, you have an interested, engaged audience with a high growth possibility alongside little direct competition. Realistically, however, it's difficult to find a completely competition-free niche.
Even if you have a great, quality service, if the field is packed with competitors, it will likely be more difficult for your business to stand out in that niche and make a profit. Conducting a competitive analysis will give you a solid idea of the competitors in your niche, market segment shares, their sales and marketing approaches, standards for product quality and pricing, and missed opportunities. At the heart of this, ask:
"How am I doing compared to X business?"
Ultimately, what sets you apart can be almost anything. If you're a camp, what sets you apart from other camps could be your social giving programs or charity partnerships.
Rather than blending in with your competition, the benefit of niche marketing is that it allows you to differentiate yourself and appear as an industry expert.
2. Finding Profitability in Your Niche
Once you've defined your niche audience, determine the tactics, channels, and messaging that will best engage those existing supporters and convert new ones.
In this step, be careful about dedicating too many resources and time to a project that won't be profitable. As you assess your profitability, keep in mind your:
Service quality: Do people value and enjoy their interactions with your business?
Pricing: Are you setting a price above the cost of production?
Audience size: Will enough people want to pay for your product or service?
Continue to revisit and revise your competitive analysis to compare the quality and pricing of your competitors' products and services to your own.
A. Niche Marketing Tactics
According to Gingr, over 60% of customers will make a purchase they were not anticipating because of a discount. Moreover, four out of five are more willing to try a new product because of a discount. When you're deciding how to market your niche business, consider what will most efficiently attract your customer personas and hold their attention. Try out a variety of marketing techniques, including the following:
Offer promotional discounts.
Set up a loyalty program.
Build partnerships.
Tell compelling stories.
Hold free events, classes, and workshops.
Sell branded merchandise.
Because your customer personas are distinct from those of other businesses, you'll want to directly address the problems and needs of your target demographic with your marketing tactics.
For instance, your dance camp for adults might distribute free custom apparel to registrants. On the other hand, your dog daycare might leverage software to send branded service discounts or free pet grooming supplies to regular customers.
In any case, when you roll out these strategies, don't just assume customers or potential attendees will stumble across them. Instead, target your tactics across channels—to customers both in-person and online.
B. Niche Marketing Channels
Just as not everyone is receptive to the same marketing tactics, not everyone is receptive—or even has access—to the same marketing channels. To convert and retain customers, reach out to them via multiple channels, including:
Direct mail
Email
Phone
Digital ads
Social media
It generally takes at least seven interactions with a customer before they decide to purchase a product or service. By leveraging multiple channels, you increase the number of opportunities for customers to engage with your brand.
---
Like most marketing strategies, niche marketing is not conducive to a set-it-and-forget-it approach. As you market your niche business, continuously test your strategies, review the results, prepare for setbacks, and adjust your plans.
Even if you find that your first strategy is a hit—and we hope it is!—as your business grows and your target market changes, you'll likely also have to adjust your marketing approach. Since today's trends can quickly appear and disappear, what was popular yesterday may be out-of-fashion or disappear completely by next week.
But these don't have to be major blows to your business. Instead, treat them as opportunities to try new approaches, look for new audiences, and develop new products.