Why Your Summer Camp Needs a Mobile App | The CIRCUITREE Blog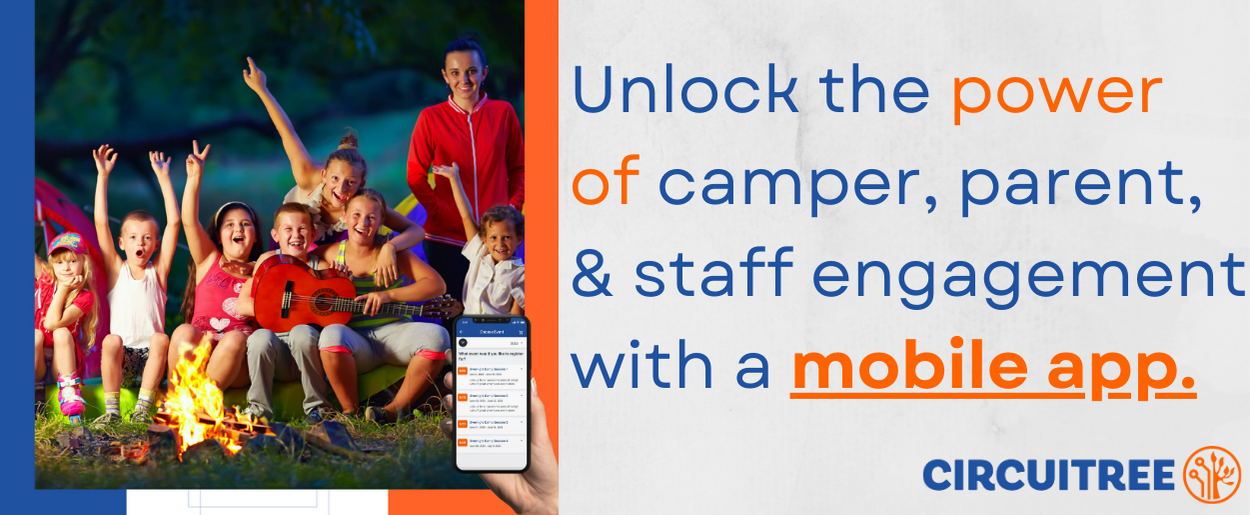 Unlock the power of camper, parent, & staff engagement with a mobile app. Discover the game-changing features that can revolutionize your camp experience!
Picture a world where campers, parents, and staff are seamlessly connected, and every interaction leaves a lasting impression. With the power of a mobile app, you can turn this vision into reality and transform the way you engage with your camp community.
Let's review the key themes of our latest camp guide, "4 Ways a Mobile Can Transform Camper, Parent and Staff Engagement" so you and your team can successfully incorporate a mobile app into your overall camp management strategy and operations.
Engaging parents goes beyond traditional communication channels that we have grown accustomed to, from mailed letters and emails to phone calls and advertisements. A mobile app empowers you to keep parents informed, involved, and inspired throughout their child's camp journey. Imagine parents receiving personalized updates, captivating photos, and videos, all delivered straight to their mobile devices. By providing this level of tailored communication, you can foster trust, build loyalty, and ensure their campers return year after year.
But the advantages don't end there. A mobile app enhances your camp's operations, streamlines management tasks, and maximizes efficiency. Today's camp managers need simplified camp scheduling, more efficient staff communications, and easier access to vital information right at their fingertips. All of this is possible with a mobile app. The result? You can now optimize your camp's workflow allowing you to focus on what truly matters – creating extraordinary experiences for your campers.
The Ultimate Mobile Solution for summer Camps
CIRCUITREE's Bunk1 mobile app is your ultimate engagement companion. With its branded app feature, you can customize the app to reflect your camp's unique identity, reinforcing brand awareness and creating a cohesive experience. The app's messaging capabilities allow parents to stay connected with their campers without intruding on their experience, while SMS and push notifications ensure important updates reach parents promptly. Furthermore, the app's news feed offers a centralized hub for all camp updates, complete with captivating PDFs, images, and videos that truly bring the camp experience to life.
Excited to ignite engagement and create unforgettable moments? Dive deeper into the potential of a mobile app by getting our camp guide, "4 Ways a Mobile App Can Transform Camper, Parent and Staff Engagement." Uncover the secrets to simplifying camp management, personalizing parent communications, showcasing the camp experience, and leveraging organic social media marketing.
Complete Your Summer Camp Experience with our all-in-one platform
Ready to take your camp to the next level? A mobile app is just the beginning of a comprehensive suite of solutions offered by CIRCUITREE. Explore our camp management software, virtual health centers, custom reports, and other innovative features designed to elevate your camp's success. Schedule a demo today and embark on a journey of unparalleled engagement and growth.
It's time to set your camp ablaze with the power of a mobile app. Embrace the future, unlock potential, and revolutionize the way you engage with campers, parents, and staff. Together, let's create extraordinary experiences that will be cherished for a lifetime. Get our latest camp guide on mobile apps!