4 Benefits of Digital Waivers for Your Summer Camp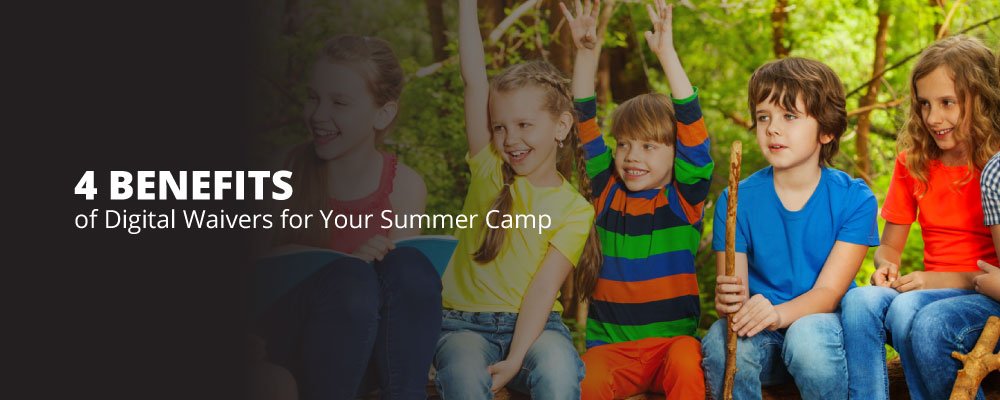 When parents or guardians are signing their kids up for your summer camp, one of the first things your camp likely asks them to do is sign a waiver. A well-planned waiver with the right information included can bring a sense of peace to both your camp and to parents.
Your camp is protected from liability issues and parents can rest assured their kids are safe and being watched by well-trained staff members. If you're curious about the type of information to include in your waiver, you can talk to a legal professional.
What we want to cover today are the benefits that accompany moving your waiver online.
You know how crazy the first day of camp is. Kids are all excited to get started with the many activities and games in store for them. Parents checking-in are trying to rally their kids, ensure the security of the camp, and say farewell to their child or children.
Digital waivers help take away some of the stress of this initial day for parents. Plus, they help your summer camp stay more organized. How do they do this? Well, with digital waivers, your organization:
Encourages parents to sign paperwork ahead of time.
Communicates more information to families.
Manages camp processes more effectively.
Manages and draws conclusions from data.
Ready to learn more about summer camps and how online waivers can benefit your summer camp? Let's get started!

1. Encourage parents to sign waivers ahead of time.
One of the major benefits of putting your summer camp waiver online is that parents or guardians can sign the form ahead of time. This takes out the stress of needing to rally kids, read and sign a waiver, and say goodbye to loved ones.
When the parents of the kids at your summer camp are less stressed, they'll feel better leaving their kids at camp because they have a better first impression of the facility.
Plus, when parents sign their waiver online, it's more likely that they'll read the legal information included in it. Rights, liabilities, and other safety information is, therefore, better conveyed to the families who will participate in camp activities.
There are several ways your organization can provide digital waivers to your participating families. Some of these presentation methods include:
Adding a widget to your website. Adding a waiver widget to your website allows parents to find the waiver easily from the front page of your site. They can simply sign from their home computers (or smartphones!).
Emailing the waiver to interested participants. Create a separate, customized URL for your waiver. Then, you can include this URL in your emails to registrants. They can click through to the waiver and sign whenever it's convenient.
Including the waiver on social media. If your summer camp uses social media to boost registrants for your summer camp, make sure you can present your waiver on social media as well.
Presenting a waiver kiosk. Of course, not all of your supporters will be able to sign their waivers online beforehand. That's why it's also important to provide a waiver kiosk at the camp itself for them to sign. This ensures everyone signs but limits the number of people who need to take advantage of the onsite kiosk, which shortens lines to sign.
According to re:Charity's online waiver ultimate guide, some of the regulations for offering an online waiver are that the waiver is in an unalterable form, that it's accessible to the consumer, and that the consumer consents to sign electronically.
Online waivers help make the signing process stress-free, which kicks engagement off on the right foot for your camp registrants. However, it also provides the opportunity for your camp to include important camp information to registrants.

2. Communicate more information to families.
There are probably several things you want your registrants and their parents to know before they arrive at camp on the first day. When you have a comprehensive online waiver, your camp can include a lot of this information during the signing process.
One of the best ways to include this information is to embed a video on the waiver for the signee to watch before they submit the form.
This video ensures you get information across to the parents about safety, necessary gear, etc. Plus, it provides another opportunity for you to share how excited you are to host their children at your camp this summer!
Not only does the waiver allow you to communicate information to your supporters, but it also allows you to collect key pieces of information from your participants. For instance, you might collect information about campers such as:
Age
Gender
T-shirt size
Pre-existing injuries
And more
While it's possible to also collect this information on a paper waiver, it's much easier to keep information organized for participants in a digital one. This helps reduce their frustration in ensuring they filled out all of the necessary information.
Look for the best online waiver to pair with your camp registration software and take advantage of all of the most important features. Start your research with this list of top online waiver providers.

3. Manage camp processes more effectively.
Even with an extensive filing cabinet, it can be difficult to keep track of which of your participants signed the waivers and which have yet to do so. That's another reason to invest in online waiver software: you don't need that extensive filing cabinet to keep information organized.
Instead, when you track all of the signed waivers with an online system, you can easily create filters to see who has/has not yet signed the required waiver.
You can take this filter and tracking ability a step further, though! Include questions on your waiver that may flag important attributes in the camp attendees. Then, filter the signees based on those flagged questions. For instance, you can easily search your signees for campers with asthma or other sports-related issues for better health management.
Another key way your online waiver system helps manage participants is with an effective check-in system.
As we mentioned before, the first check-in day at camp is crazy for parents. Campers are excited to get started with all of the fun games and activities and parents are making sure all of the paperwork is in order. With the right technology, you can create a streamlined check-in process to ease everyone's anxieties.
The two ways you can do this are either through your registration software or your waiver software:
Registration software.

Registration software like Circuitree provides barcode wristbands for campers to easily check-in to the system. This barcode can also be used for campers to make expenses to their accounts or collect medications. Plus, staff can more easily manage campers by doing things like quickly accessing medical records.

Waiver software.

While waiver software doesn't have the full functionality that proper camp registration software does, the simple check-in process makes it easy to pull up the signed waiver based on a participant's name or to quickly check a box to show that they've arrived.

After the camp ends, your management forms aren't quite done. However, these final forms can be fun. Ask your campers to

fill out evaluation forms

about their favorite and least favorite parts of the camp.
Not only does this allow campers to reflect on their time at the camp, but it also provides insight for your camp staff about the best and least effective activities. You can switch up the various aspects of camp to make it even more fun next year!
4. Manage and draw conclusions from data.
Collecting data is key for keeping your summer camp running throughout the years. You want to both attract new campers to join and convince your past campers to return. Collecting and analyzing the data you collect about each of your campers will help you create an effective marketing campaign.
Data from your waiver technology can be combined with that from your registration software to compile effective strategies to reach out to your existing campers.
Access to software like Smartwaiver makes it easy to export data that you've collected on your waiver and upload it to your CRM, spreadsheets, or other management solutions. Therefore, you can easily store information about a camper's age, gender, etc.
Storing this information helps your organization keep accurate records for years to come so that your camp can steadily grow its members.
---
One of the main goals for your summer camp is maintaining a high enrollment rate over the years. This lets you know that your camp is effectively entertaining campers and helping them learn and grow. An effective digital waiver facilitates this process for everyone.
However, never keep your eye off the prize! No matter how important enrollment is, and how effectively waivers can get you there, the ultimate goal for any summer camp is for the kids to have fun!
D
aryl McCarl is the Director of Business Development at Smartwaiver, the leading digital waiver service trusted by thousands of organizations around the world. www.smartwaiver.com