4 Benefits of Digital Waivers for Your Summer Camp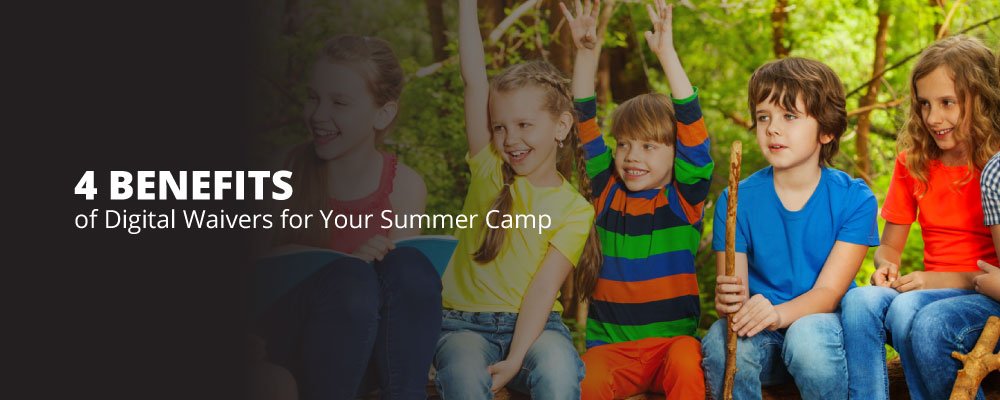 When parents or guardians sign their kids up for your summer camp, one of the first things your camp likely asks them to do is complete a waiver. While signing a waiver might seem tedious, a comprehensive, well-written form can bring a sense of peace to parents and to you as a camp leader.
In particular, digital waivers help take away some of the stress of busy check-in days for parents and your camp staff. When paired with a robust summer camp management solution, your camp can stay more organized and optimize its daily operations.
With digital waivers, your summer camp can:
Ready to learn more about summer camps and how online waivers can benefit your summer camp? Let's get started!

1. Encourage parents to sign waivers ahead of time.
One of the major benefits of digital waivers is that parents or guardians can sign the form ahead of time. So, once you make your waiver (with the help of a lawyer!), you'll need to share and promote it online. After all, when parents are busy hauling in luggage, checking in their campers, and kissing them goodbye, the last thing they'll want to do is read and sign a legal document.
There are several ways to share your waiver online, such as:
Embedding a widget on your website.

A waiver widget allows parents to find the waiver easily from your site's homepage. Make sure to take any necessary steps to ensure current and potential customers can find your site on Google, like optimizing your content for relevant keywords and requesting that Google index and list your pages in search results. You can even invest in

paid advertisements

on search engines for a chance at having your site listed at the top of the page.
Emailing the waiver to registrants.

Create a custom, shareable URL for your waiver form. Include this URL in the emails you send to registrants after they enroll in your program. From there, they can click through to the waiver and sign any time before check-in day.
Including the waiver on social media.

As you know, social media can be a highly effective way to promote your camp to new and existing audiences. Make sure to post about and link to the waiver on your social media pages to spread awareness of it. You might consider using a "link in bio" tool like

Linktree

to create a directory of your most important resources (like your waiver and enrollment forms) for social media followers.
Most likely, not all of your supporters will sign their waivers online beforehand. To ensure these parents are still able to complete the form, it's key to provide a waiver kiosk at your camp. Waiver kiosk apps can operate offline, capture photos of the signee for an added layer of security, and be used on a variety of devices—from laptops to iPads.

2. Communicate more information to families.
Your camp has a duty to inform parents and campers of certain information, like your policies around cell phone use or a required packing list. You can share some of this information, along with real-time updates, through your parent portal to keep everything organized.
In addition to sharing these key resources with parents via your portal, you can also use waivers to collect important information about campers, such as their:
Age
Gender and/or preferred pronouns
T-shirt size
Pre-existing injuries, allergies, dietary restrictions, or other health conditions
Any special accommodations your camp should make
You can also have parents and campers complete any required training courses by embedding videos on the form. For example, let's say your camp gives campers the opportunity to learn and practice sailing a boat. Your video would provide basic safety guidelines, inform campers and parents of any risks or warnings, and list gear they'll need to purchase before camp.
Start your search for the best online waiver for your camp and limit the number of forms parents have to complete by pinpointing your "must-have" features. If you're feeling stuck, Smartwaiver's guide to digital waiver software ranks seven top providers to check out.

3. Streamline camp processes.
If your camp has a history with paper forms, you know how difficult it is to track which participants have signed your waiver. And that's not to mention how long it can take to find past waivers if you need them.
When you track all of your signed waivers through an online system, it's easy to create filters to see who has/has not yet signed the required waiver. You can also find signed waivers within your database by searching for specific terms like:
Last name
Birthday
Unique tags that you create
You can even take this filter and tracking ability a step further by flagging important attributes of the camp attendees, like special needs or health conditions. Include questions on your waiver to identify these attributes, then filter the signees based on those flagged questions. For instance, you can easily search for campers with asthma for better health management or schedule phone calls home for first-time campers to curb homesickness.
4. Manage and draw conclusions from data.
Collecting data about parents and campers is key to keeping your camp running. These insights help you make discoveries like which parts of your program are the most popular and which outreach methods are most successful. You can also learn personal information about your customers that shapes your communication strategy for a more personalized approach.
Data from your waiver technology and camp management software can be combined to help you develop effective outreach, but it's much easier to draw insights from data when you aren't distracted by typos, duplicate entries, or outdated information. Committing to data hygiene practices can keep these errors at a minimum. NPOInfo's data hygiene guide recommends following these simple best practices:
Standardize data formatting.

Train any staff members who will be dealing with data to enter specific information the same way. With phone numbers, for instance, you should specify whether they should use punctuation (123-456-7890) or leave it out (1234567890).
Schedule data backups.

It's easy to forget to back up your data when everything is going smoothly, but a single software crash can make you wish you had. Make sure to regularly back up your files and test your backup solution to confirm that you have access to the backup data.
Invest in data appends.

While you can glean a lot of information about registrants through waivers, a professional data append can help fill in the gaps. For example, while you might have a parent's phone number, email and home address, and date of birth, a data appeal can help reveal their employer.
Let's say you receive a waiver for Caroline, a first-time camper, completed by her mother. The waiver tells you that Caroline is experienced in sailing and watersports, the family lives within ten miles of your camp, and they found out about your program via social media. Based on these findings, your camp decides to ask if Caroline and her other family members would share about your camp on their social media pages to spread awareness of your program to her peers and those in the local sailing community.
---
Digital waivers can help your camp meet ambitious goals, potentially protect against liabilities, and give campers and parents the best experiences possible. As your camp grows and pursues goals like increased enrollment, make sure the tech you use supports that growth. Your summer camp management software and waiver software should be capable of scaling alongside your growing roster of campers.
Logan Lewis is the Content Coordinator at Smartwaiver, the leading digital waiver service trusted by thousands of organizations around the world.