4 Questions on Using Parent Portals to Engage with Customers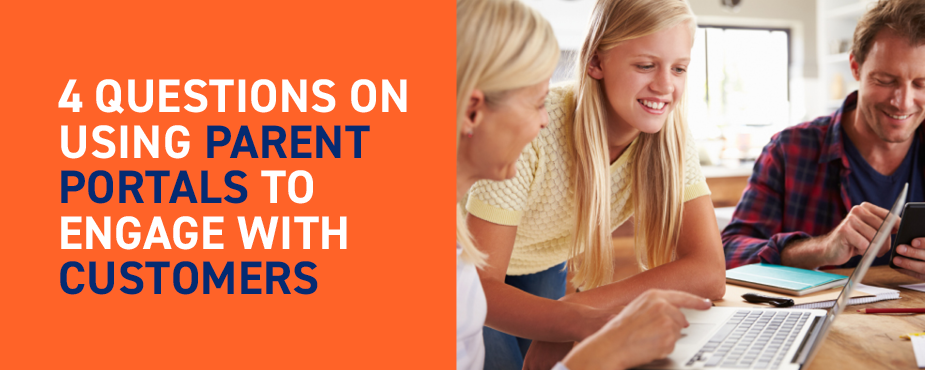 As a summer camp leader, you know the importance of having healthy relationships with parents. After all, parents are paying customers, and they typically make the final decision about whether or not campers will return to your camp each year. Effectively managing these relationships is key to keeping camper retention rates high and limiting customer dissatisfaction.
The best (and easiest) way to develop a positive relationship with your customers is to invest in camp management software with a robust parent portal feature. Here at CIRCUITREE, we provide the features and tools you need to make a good impression on parents every step of the way, from registration to end-of-season checkout.
In this guide, we'll cover how you can use parent portals to engage with customers and make your life as a camp leader easier:
While each summer camp faces unique challenges, managing the influx of registration questions, forms, and waivers is a shared one. Choosing a parent portal solution can help you streamline your registration process, making it easier for you and your customers.


Frequently Asked Customer Engagement Questions
1. How can camp leaders streamline camp processes for parents?
The enrollment process is one of the first impressions new customers have with your camp. Look for a tool that will help you make this process simple and convenient for parents.
For many summer camp programs, the registration process can be messy and cumbersome. If you're envisioning mounting stacks of paperwork or cluttered files littering your desktop, you're not alone. Investing in a parent portal with summer camp registration software can help you transform your disorganized registration procedures into an intuitive, simplified online process. Look for a solution with these essential registration tools:
Customizable registration forms.

Generic registration form templates can include questions that are completely irrelevant to parents, making the process take longer than it should. On the flip side, these forms may not include important information about the unique parts of your camp's program. Tailor questions to your camp with custom forms so you can ensure you're only asking what you need to know.
Cloud-based data storage.

When registration data is stored in the cloud, you and your staff can access it from anywhere. You won't need to worry about transporting physical papers or sharing local computer files with your staff. Plus, because registration is hosted online, parents can complete forms whenever and wherever they can.
Access to all relevant forms.

Depending on your camp's programming, you may require parents to complete additional forms. After all, it's best to secure waivers and health forms before letting campers hop on a jet ski or zip line. With an online registration tool, you can give parents access to these forms in one convenient location so they can easily keep track of what they'll need to complete before camp kicks off.
Avoid making registration a pain point for you and your customers. A streamlined registration procedure can help you gather all of the important information you need while keeping forms as short as possible for parents.
2. How can parents stay up-to-date on camp activities?
While you may try your best to send out regular camp updates to parents, they might still feel out of the loop about what their kids are up to. Many parents want to see updates throughout the day and can't get enough pictures of their children having fun making smores around the fire or swimming with fellow campers.
These parent portal features can help you share those important memories with parents:
Image galleries with facial recognition software.

You probably already take plenty of pictures of your campers throughout the day, preserving the fun memories they make while kayaking or participating in a scavenger hunt. Use a parent portal with built-in image galleries to host all of these images so parents can build memories along with their campers. Facial recognition software can help them quickly find pictures of their child so they can see which activities they're enjoying.
Social media-style news feeds.

With a parent portal, you can post about daily activities going on at camp so parents can keep up from home. Use this newsfeed to post about a recent hike, the winners of your camp's field day, or the songs you sing around the fire at the end of the night.
While parents are the paying customers at your camp, they rarely get to see all of the fun their children get up to while camping. These features can help them see the enriching activities their camper participates in and communicate the value your camp adds to their children's lives. Parents who see your camp's worth each day are much more likely to return next year.
3. Is there a way for campers and parents to communicate?
Homesickness is a common yet stubborn problem for camp leaders. For many campers (and their parents), the hardest part of summer camp is being apart. This can be especially tough for younger campers who have never been away from home before.
Using a parent portal tool can help you cure homesickness at your camp with easy-to-use parent/camper communication tools. For example, CIRCUITREE's camp management solution allows parents to send Bunk Notes, or special camp letters, to their campers whenever they need a small reminder of home. Here's a peek at how Bunk Notes work:

Parents write custom, heartfelt letters to their kids. They can also add photos, borders, or puzzles to make the letter more special.


Your staff prints the Bunk Notes and delivers them to the camper's bunk.


Campers receive the letters from their parents at bedtime. After they read it, they can even write back!
Homesickness can quickly ruin a camper's experience. But with a short update from their parents, campers can feel reassured and empowered to make the most of the camp experience.
4. What is the best way to reach parents in the event of an emergency?
If you're a seasoned camp leader, chances are you've run into some kind of urgent issue you needed to alert parents to quickly. Maybe a camper got hurt or there was inclement weather posing a risk to the camp. No matter what the situation, parents want and need to know when there's an emergency.
When you're dealing with any urgent situation, the last thing you want to do is fumble through your records in search of the right contact information for campers. A parent portal tool makes it easy for you to send messages to parents with just a few clicks. This way, you can get them up to speed quickly and take the next steps that will keep your campers safe.
Look for a parent portal with flexible communication options so you can reach parents during any emergency event. CIRCUITREE's parent portal uses mass emails, push notifications, and text messages to allow you to reach parents no matter what device they're using. You can even choose whether you want to send messages to individual parents or large groups, helping keep sensitive information private or quickly sharing camp-wide information as needed.

CIRCUITREE: A Comprehensive Summer Camp Management Solution
CIRCUITREE's parent portal tool offers all of the features we've discussed so far in this article, making it one of the best ways to engage with your customers. However, CIRCUITREE doesn't just provide customer engagement tools. It has everything you need to manage a successful summer camp program.
Invest in CIRCUITREE's camp management solution to take advantage of these top features:
Cabin-mate requests.

This tool makes it easy for friends to bunk together. Campers can invite their friends to be their roommates, ensuring they are all sorted into the same cabin. For campers who are new to your camp, the system can automate roommate assignments so you don't need to spend hours assigning each camper to a cabin.
Marketing capabilities.

A strong marketing strategy is one of the most important parts of growing your camp each year. Facebook is a great way to market your camp because your existing customers can share information about your program with their social networks. You can also use CIRCUITREE's Facebook lookalike tool to find untapped audiences with similar interests and motivations to your current audience.
Automated payment plans.

Many camps offer scholarships, discounts, and payment plans to make their program as accessible as possible. With a

summer camp management solution, you can easily track scholarships and discounts and associate them with specific campers. You can also automate payment plans so parents receive payment prompts in a regular, timely fashion.
Virtual health center.

The health center hosts all of the essential medical information you need to know about your campers. Here you can enter specific medical complaints from campers, record treatment plans, and note when and where the injury occurred. You can also view a comprehensive medical log of these medical complaints, their scheduled medications, and their medical history.
Giving your campers the most exciting, safest experience while at your camp should be one of your top priorities—CIRCUITREE's software makes it easy for you to deliver those experiences all while maintaining strong relationships with parents.
Wrapping Up
There are so many moving parts to running a summer camp, from keeping detailed records to planning the camp activities your campers will truly love doing. Adding logistical responsibilities throughout the day can be draining for busy camp leaders and distract from the jobs you're most passionate about. A camp parent portal can help you give campers a summer they won't forget and keep their parents happy and informed.
To learn more about managing your summer camp program, check out these additional resources: