Marketing for Nonprofit Camps: How to Use Google Ad Grants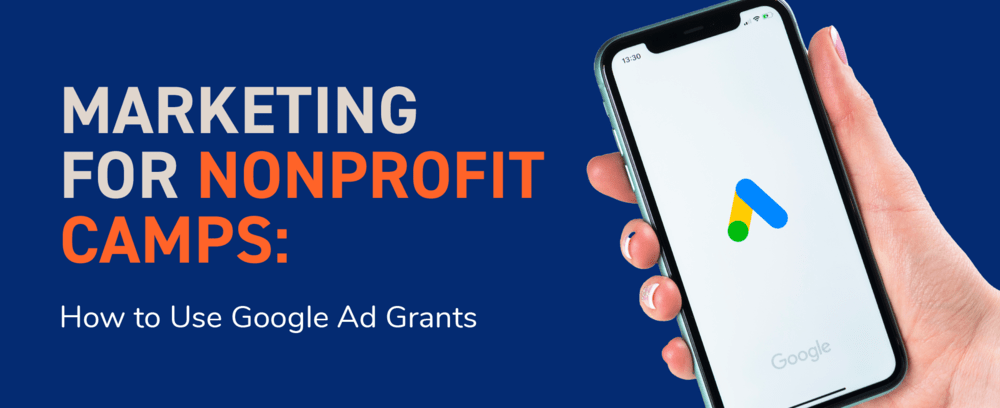 Camp is where moments of growth, adventure, and lifelong memories are made. In this world, marketing is pivotal in connecting with young minds and well-wishing parents. As a communication specialist, limited funds make it challenging to reach these parents and get the word out about your nonprofit camp. Your camp management software may offer helpful communication tools, but you'll likely want to go beyond those to really generate buzz for your camp. Enter the Google Ad Grant.
This marketing program awards eligible nonprofits up to $10,000 each month to spend on promoting their initiatives within Google search results. That makes it a valuable tool for boosting camp visibility.
In this article, we'll uncover the transformative power the Google Ad Grant holds for camps like yours and strategies that'll allow you to cash in on that potential. We'll explore what you can do to get started:
Generating enough attention for your camp is not always an easy feat. By leveraging the Google Ad Grant program, you can switch up your approach, get your camp's name out there, and increase enrollment much easier!
Qualify and Apply for Google Ad Grants.
First things first, you need to check your camp's eligibility, apply, and get approved for the program. Then, you can start advertising your camp!
Eligibility Criteria
Google limits access to the program and conducts a manual check to ensure you're eligible. After all, they created the program specifically to amplify worthwhile missions. They don't want to offer free funding to organizations that will promote unhelpful content.
Before applying, you'll want to ensure your camp qualifies for the Google Ad Grant. That way, you won't waste time completing the application process if you probably won't be approved. Getting Attention's Google Grants eligibility guide dives into each requirement, but we'll give you a quick rundown. Your nonprofit must:
Hold valid charity status.

If your camp is based in the U.S., it must be registered as a 501(c)(3) organization with the IRS.
Have a functioning website with substantial, promotable content.

Your Google Ads will direct users to your website, so Google requires you to have a valuable website.
Be registered with TechSoup and Google for Nonprofits.

TechSoup is a third-party site that verifies your nonprofit's legitimacy. You'll need to register with them and then apply for Google for Nonprofits.
Verifying your eligibility can take anywhere from a couple of weeks to a couple of months, so start the application process well before you plan to run your ads. The good news is that your application will likely be approved if you meet the eligibility requirements!


Applying for the Program
Once you've confirmed your camp's eligibility, move forward with applying. If you don't already meet the eligibility requirements we just covered, bring your website up to code. Then, register your organization with TechSoup.org. TechSoup will send you a validation token, which can be used to register for a Google for Nonprofits account.
From here, securing your Ad Grant account will be easy. Simply navigate to your Google For Nonprofits account. Then, complete these Ad Grant application steps:
Click 'Get started' under Google Ad Grants. Enter your website's URL and click 'Submit website' to verify its security.
Fill out the eligibility form, where you answer questions about your camp's mission and goals for the program.
Wait for verification from the Google Ad Grants team. If approved, they'll email you with instructions for activating your account.
Take the time to complete the application process properly. Otherwise, your application might be disapproved the first go-round, preventing you from creating your camp's ads in time for registration season.
Set Goals For Your Camp's Google Ads.
As you get up and running, think carefully about what you want to achieve through the program. Then, create ad campaigns centered around these goals. For example, you'll likely want to:
Increase Camp Registrations:

Drive enrollments by creating ads highlighting your camp's unique experiences and activities.
Recruit Volunteers:

Attract volunteers who are passionate about your camp's cause and willing to contribute time to support its operations.
Expand Geographic Reach:

Let's say you

run a sports camp

that caters to a specific region. With geotargeting, Google Ads can attract campers from your specific area and expand to nearby communities.
Promote Scholarships:

Highlight scholarship opportunities to reach families who may be interested in your camp but require financial assistance.
Defining your exact goals makes creating ads that target these objectives easy. This will also help to measure user actions since Google Ad Grant participants are required to track conversions like camper registrations and volunteer sign-ups.
Craft Engaging Google Ad Grant Campaigns.
Here comes the fun part: creating your camp's ads! As with any nonprofit marketing campaign, you'll want to spend time honing your messages and creating the best user experience possible to communicate why potential campers should attend. Let's look at two elements you'll want to focus on:
Write strong ad copy.
Up first is your ad copy. You'll want to craft enticing ad copy highlighting your camp's unique aspects. Anyone who encounters your ad should feel compelled to click through to learn more.
Think of your ad copy in two parts: headlines and descriptions. Your headlines appear as clickable text at the top of your ad. You'll want one that grabs users' attention. Your descriptions provide more detail about what users can expect when they click your headline. Here's a quick example for a summer camp Google Ad:
Headline:

"Unleash Adventure This Summer | Attend An Unforgettable Camp"
Description:

"Looking for an enriching summer experience for your kids? Camp Cedar offers a blend of adventure and learning. Secure a spot now and give your kids a summer they'll cherish forever!"
Headlines and descriptions each have character limits, but you'll write a few of each. Then, Google will mix and match them to create full-length ads relevant to the user's search query. To craft an ad like this that captures attention, include these elements:
Clear calls-to-action (CTAs):

Incorporate strong CTAs that prompt users to take action, such as "Secure a spot now" or "Explore our camp programs." A clear CTA motivates users to engage with your camp's ads.
Unique value propositions:

Showcase what sets your camp apart – whether it's expert instructors, innovative programs, or stunning natural surroundings. Your ads should communicate your camp's value proposition and position your camp as a safe and exciting experience for kids.
Ad extensions:

Within your Google Ad Grant account, you'll find built-in tools that can expand your ads, provide searchers with additional information, and enhance the visibility of your ads. Use sitelinks to add more landing pages, callouts to emphasize key benefits of your camp, and call extensions to include a click-to-call button.
Even if you're not an expert writer, you can create ads that drive people to attend your camp, sign up to volunteer, or take other meaningful actions. If you need help, turn to a Google Ad Grants agency. These experts devote their time to learning how to write ads that capture people's attention.
Optimize your landing pages.
Landing pages are where users will arrive after clicking your camp's ad. You'll want to direct users to a page aligned with the ad's message. For example, if your goal is to increase registrations, make your camp registration page your landing page.
Once you choose the right landing page, ensure it offers a seamless user experience. Cornershop Creative's best nonprofit websites list walks through several ways to enhance your webpages, including:
Mobile responsive design:

There's a good chance mobile users will encounter your ads. A responsive design will automatically resize on-screen elements based on the user's screen size.
Prominent CTAs:

Your ad copy isn't the only part of your ad that should feature a clear CTA. Strategically place CTA buttons on your landing page, such as above the fold, naturally throughout the content, and at the bottom of the page. Use action-oriented text and make sure it stands out with colors that contrast with the overall page design.
Modern and fresh design:

Make sure your camp's site doesn't look like it was built 15 years ago. Use contemporary design tactics like high-quality images, modern typography, and animation.
Not only will this boost your performance, but the program's coordinators actually implement website requirements to ensure nonprofits offer a positive user experience. Overall, well-designed landing pages enhance user engagement, increase conversion rates, and contribute to your campaign's success by turning clicks into meaningful interactions.
Embracing the Future of Camp Marketing
Marketing your camp doesn't have to be overwhelming. Google Ad Grants have the power to amplify your camp's marketing efforts. You just need to put thought into your ads and landing pages to maximize your camp's online presence, position your camp as an enriching experience, and ensure a great turnout. Your campers will start arriving and having a blast before you realize it!