Leveraging Tech To Overcome Sports Camp Obstacles: A Guide

As a coach, athletics director, or any other sports camp program leader, you're familiar with all the hiccups that might crop up over the course of the camp season. Maybe players are accidentally directed to the wrong place or important equipment has been left in storage instead of on the field and ready to go. Worse still, maybe a clunky registration system negatively affects attendance and you're left with only a handful of participants.

These are just a few hurdles you might encounter in your pursuit to run a successful sports camp. It can be a tough job, but you don't just have to grin and bear it—instead, the right software solution can help you to overcome the biggest challenges that camp throws your way!

To help you host bigger and better sports camp programs, our camp management experts at ABC Sports Camps: Powered By CIRCUITREE have prepared this guide to software and sports camp management. We'll explore:
5 Obstacles to Running Your Sports Camp Smoothly
Putting Sports Camp Management Software Into Play
CIRCUITREE: Our Solution Can Drive Your Camp to Victory
Ready to revamp and streamline your approach to sports camp management? Let's dive into the playbook and kick things off with important issues your sports camp may encounter.


5 Obstacles to running your sports camp smoothly
As we mentioned, there's a laundry list of different problems that can make coaches' jobs trickier and stop them from focusing solely on their athletes' training out on the field. While you want to give your athletes the attention they need to grow in their chosen sport, these major logistical problems can divide your time and focus:
Messy administrative processes and recordkeeping. From invoices to waivers to check-in forms for the protection of program participants, there's a lot of paperwork that quickly piles up during the months leading up to and after the camp season has wrapped up. And if you're manually handling this documentation or relying on another outdated system, you'll waste hours of precious time and energy just trying to keep track of everything.
Unresponsive processes for student-athletes and families. Maybe athletes are fumbling to navigate your summer camp enrollment system. Or maybe families are running into a brick wall trying to learn more about your fall camp program because the webpage won't load. If you don't offer user-friendly interfaces and resources for athletes and their families to engage with your program, then they might just throw in the towel and not bother signing up.
Difficulty creating a professional and notable camp brand. You may be the most passionate coach in the world, offering a spectacular sports program experience that athletes will remember for years to come. But if your camp's branding is confusing or even unprofessional to potential program participants, then they may just take their money elsewhere.
Discouraging staff retention rates. Even the most experienced and dedicated coaches can't run entire sports camp programs all on their own. Assistant coaches, administrative workers, and other staff members are critical to the success of your program—both on and off the field. But when your staff is asked to use dysfunctional workflows or software, it can be all too common for these staff members to become frustrated and seek out different opportunities, leaving you to start all over again with the hiring process.
Low camp registration numbers and stagnant operations. As critical as coaches and other staff members are to the management of your sports camp, the program can't exist without athletes to teach! This is what makes it so important to avoid the logistical issues discussed above, as all of these issues can contribute to lower rates of registration and participation in your sports program.
Passion, enthusiasm, and a love of what you do are all important components to promoting a positive and worthwhile sports camp experience for athletes and staff. That being said, the most positive attitude in the world can't overcome these common administrative concerns that threaten the success of your program. You'll also need to equip yourself with the right tools to get the job done.

Putting sports camp management software into play
Now that we've covered the major problems that can hurt the performance of your sports camp program, let's consider the solution to these issues: sports camp management software.

Sports camp management software is purpose-built technology used to streamline the many administrative and logistical tasks that come with running a sports camp.

At hearing this description, you might be thinking "Great! Problem solved. Time to start investing in some software." However, things might not be as simple as typing "sports camp management software" into your browser and investing in whatever pops up first. There are a variety of sports camp management solutions on the market and you'll want to be careful that you pick the right sports camp software for your institution or organization.

To narrow down your search, be sure to sit down with your leadership team and discuss the budget, needs, and goals for your software solution. After all, every sports camp program is unique, from local youth baseball camps to sprawling multi-sport university programs, and you should have a concrete grasp of where your priorities lie before diving into your search.

Additionally, be sure to carefully review the specific features offered by each solution. In particular, the following features are telltale indicators that you're investing in a reliable, robust software solution: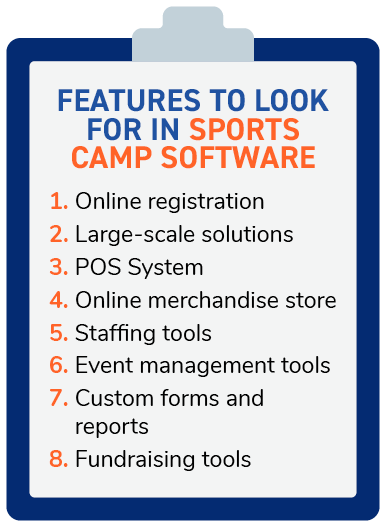 Online registration. Cut through messy administrative processes and make enrollment as user-friendly as possible for athletes with an online registration system. These tools not only allow program participants to breeze through the tedious enrollment process. Moreover, they enable you to personalize registration procedures for your unique program with customized questions, multi-event scheduling, and other widgets.
Large-scale solutions. From large and complicated sports programs to small sports camps hoping to grow, all sports camp programs will benefit from software that can handle large-scale operations. For example, what if you need to manage multiple teams, age groups, or even different types of sports at once? Look for a system that has tools to support these large-scale needs, like multi-bracket rosters and intuitive payment systems.
POS System. If you're worried about maintaining good data hygiene and making it as easy and as secure as possible for athletes to participate in your camp, then put point-of-sale (POS) systems on your list of priorities. With a POS system, you can create a safe payment gateway for athletes. Moreover, some software solutions allow you to further take control of the payment process with easy invoice sharing and inventory management features.
Online merchandise store. The sale of t-shirts, custom water battles, and other branded merchandise is common for many sports camp programs, yet some coaches have yet to take advantage of online stores. The right sport camp management system should offer e-commerce tools that make it easier, faster, and more convenient for athletes to buy your products—even before they've set foot on the field!
Staffing tools. Streamline tricky camp staffing strategies with a software solution that contains built-in hiring features. With an effective management system, everything from posting the job opportunity to evaluating references is all made simple. This should put you on the right track to populating your team of staff with passionate, happy workers that are excited to kick off the season.
Event management tools. Your sports camp program is chock full of different activities, meetings, and other events, making it critical to have effective event management tools on your side. Opt for a system with features such as registration tracking, email scheduling and automation, and roster management to make the most of your program's events.
Custom forms and reports. Data is the backbone of any successful sports camp program—after all, data allows you to keep track of your program as it unfolds and understand ways that you can improve going forward. And with customizable forms, dashboards, and reports, you can streamline data organization and recordkeeping for your team.
Fundraising tools. Whether your program has a long history of fundraising, is new to the idea, or plans on incorporating it into future operations, you'll be thankful to have an intuitive donation portal on your side when it comes time to appeal for gifts. In particular, features such as donation reports, donation receipts, and automated thank-you messages can be a lifesaver for programs that make use of fundraising.
By keeping an eye out for these capabilities, you should be far more confident that you're investing in a tool with everything you need to cut through the clutter and minimize the biggest management challenges headed your way.

circuitree: our solution can drive your camp to victory
If you're on the lookout for a comprehensive yet scalable solution that can be tailored to each sports camp program's unique needs, then we'd like to introduce you to ABC Sports Camps: Powered By CIRCUITREE.

This robust, easy-to-use solution truly does it all. Our intuitive sports camp management software is purpose-built with all of the features and capabilities discussed in the previous section. Not only that, but this system also comes with:
Customer support. At no extra cost, our dedicated customer support team is here to answer any questions and tackle any challenges you might have.
Custom website design. Your website is a critical tool to promote your program and engage athletes. That's why we offer our clients the chance to have their website built in three days or less and then managed by our experts—all with no set-up fees.
Social media marketing. Our team of marketing professionals are on standby to help you leverage your social media marketing strategies as effectively as possible.
SEO services. Search engine optimization (SEO) is a great way to digitally promote your program and brand. And our marketing experts are here to guide you through that process and maximize your marketing reach!
Of course, maybe your sports camp program is a bit smaller or doesn't quite needs all the bells and whistles that come with our complete sports camp management package. That's alright—ABC Sports Camps: Powered By CIRCUITREE enables you to customize your own solution to get the most mileage out of our tools.

Just pick the tools that suit your specific preferences, goals, and priorities. We won't ask you to pay for anything that you don't need, making this an especially powerful and flexible software choice for any sports camp program leader!

wrapping up
Sports camp coaches know the value they add to their camps, especially for young and aspiring athletes. But without the right tools on their side, they struggle to provide the best experience possible for their athletes. Fortunately, with these insights and an effective software solution in your sports camp management toolkit, you will be able to tackle your next season and all the responsibilities and duties that come with it.

Are you eager to make the most of sports camp management software and invest in a great solution for your team? Book a demo with our solutions specialists to learn more about ABC Sports Camps: Powered By CIRCUITREE and start your software journey!