Looking Forward: Lessons from the 2022 Summer Camp Season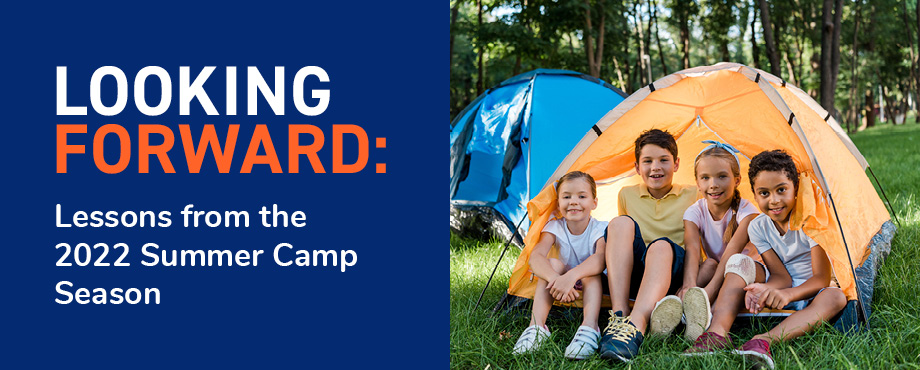 With the 2022 summer camp season at a close, your campers have headed back home to prepare for the new school year. As a camp leader, your team might be reflecting on fun memories around the campfire or laughing over silly pictures from exciting activities. While you likely saw plenty of successes and happy faces at your summer camp, chances are there are a few things you wish had gone differently.
Like any season, this year's camp season presented camp leaders with new challenges. However, these obstacles shouldn't stand in your way as you continue to build your program year after year. With the right software solutions, you can learn from this season's challenges and come back stronger in 2023.
Here at CIRCUITREE, we provide solutions to the myriad of complications that can pop up for camp leaders. With this solution, you can address challenges like messy registration processes with a streamlined, online registration tool to ensure the process goes smoothly for you and your campers. In this guide, we'll explore:
Summer Camp 2022: Common Issues and Concerns
6 Benefits of Using Camp Management Software
Camp Management Features to Look For
Adjusting your camp management strategies year after year is a key part of making your program the best it can be. While challenges and setbacks are unavoidable, why not make the most of them by learning something? Let's dive in by exploring some of the top challenges summer camp leaders faced this season.


Summer Camp 2022: Common Issues and Concerns
The past few years have held many unique challenges for summer camps. Due to the pandemic, camp leaders across the country learned to adjust to lockdowns, capacity limitations, and other public health restrictions. Even as pandemic restrictions continue to loosen, this camp season still challenged leaders.
These challenges can fill your schedule with logistical issues that you need to take care of, subtracting from the time you could be spending with your staff and campers. A few of the challenges you may have faced this summer include:
Disorganized registration processes. Summer camps across the country saw elevated registration rates this season as families were able to get back to many of their regular activities post-COVID-19. While high demand is a good thing, it's easy to get overwhelmed as registrations pile up. If your camp leaders handle registrations manually or in a clunky, outdated system, you could even wind up accidentally under or overbooking.
Communication gaps between camp leaders and parents. For many parents, dropping their kids off at camp can be difficult. They want to know that their children are safe and happy and get a feel for what they're up to at your camp. However, it can be difficult to update each parent in a meaningful way, especially when it comes to sharing daily updates about camp activities like swimming, arts and crafts, and hiking.
Low staff retention rates. Almost every industry

struggled with staff retention

this summer, and summer camps were no exception. Maybe you found it difficult to engage staff, or maybe some of your counselors moved on to a job in another industry. Whatever the reason, high staff turnover can take a hit on your camp's morale and efficiency.
Confusion over financial records. Finances can get messy quickly, especially when paired with outdated payment systems and a manual registration process. As a camp leader, you're likely not passionate about managing finances, even though maintaining clear records is vital to your camp's continued success.
Chances are, one of your favorite parts of the camp leader job description is giving your campers positive experiences they'll remember for years to come, not worrying over tedious administrative tasks.
Luckily, the right camp management software can help you overcome obstacles while still having the time to focus on the parts of your job that you love. With the right tools in your toolkit, you'll see benefits that extend beyond solving these issues.
6 Benefits of Using Camp Management Software
Now that we've discussed some of the common issues camp leaders ran into this summer, let's learn about how camp management software can help. The right software doesn't just make your life as a leader easier — it also makes parent and camper experiences with your camp more positive.
Let's take a look at how using camp management software can benefit your camp:
More efficient management practices. Camp management software streamlines small, yet time-consuming, administrative tasks like managing registration. With mobile capabilities, auto-fill fields, cart reminders, and multi-camp registrations that help automate and streamline these processes, you and your staff can focus your energies on more important jobs like planning fun camp activities.
Parents' minds are at ease. Parents want to know that their children are

safe and protected

at your camp, and frequent updates about where they are and what they're doing can assuage any anxieties they have. With a tool that makes it easy to send updates, alerts, and other communications to parents, your camp can connect with the families it serves more frequently. Plus, you can even provide pictures with facial recognition capabilities throughout the day so parents can see their kids having fun.
Better camper experiences. If you're a veteran camp leader, you probably know how often campers feel homesick at summer camp. Camp management software can help alleviate those feelings by providing a "cure" to homesickness with Bunk Notes. These camper letters are exclusive to CIRCUITREE, and they give parents and children an opportunity to connect through printed letters delivered to their bunks.
Higher enrollment levels and camp growth. If your camp already runs like a perfect, well-oiled machine and boasts long registrant waitlists, you might not be concerned about growth. However, this isn't the reality for most camps that strive to

boost enrollment

and expand their reach each year. Camp management software can help you reach those goals by pushing your name to new audiences with custom website design, social media marketing, and SEO services.
Improved staff satisfaction levels. Centralized software can give you the tools you need to create a positive and productive environment your staff will want to work in. For example, by making the application process convenient with online applications, potential staff members will have a positive first impression from the get-go. Plus, with end-of-season evaluations and surveys, your staff will know that you value their thoughts and opinions.
Healthier business and financial practices. One major aspect of a healthy business is organization. Keeping track of important business and financial data (like your summer merchandise sales) ensures that you know where your business is and where it's heading — and management software with comprehensive reporting and data analysis tools can make organizing your data simple and easy.
Using camp management software as your solution to this season's challenges holds more benefits than just freeing up your time as a camp leader. These larger benefits have long-term implications for your camp like deep loyalty with customers, a dedicated and passionate staff, and the ability to make smarter, data-driven financial decisions that will keep your business healthy.

Camp Management Features to Look For
There are plenty of tools out there that are meant to make your life as a camp leader easier. Simple tools like registration form templates might help you organize registrants, but we see this more as a temporary solution to a bigger problem. A comprehensive camp management software can help you tackle seasonal obstacles while working to build your ideal camp program.
Here are a few of the essential camp management features to look for to put your camp on the path to success: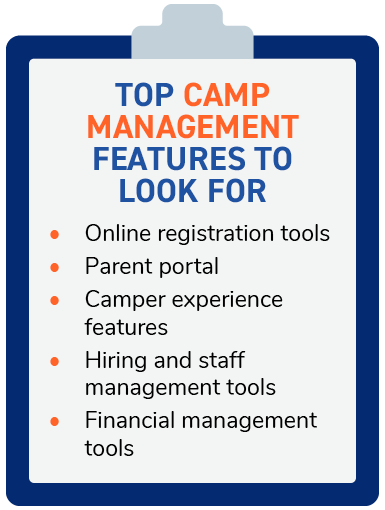 Online registration tools. With a registration tool hosted entirely online, your registration process can be completely paperless. All of your forms will be organized in one place and your team won't need to manually file or input them. Customizable forms streamline this process even more so you can tailor your forms to your programming, require only the information you need, and ask for all relevant waivers, health records, and other forms.
Parent portal.

Using a parent portal tool

makes keeping parents in the loop as easy as making a few clicks. With this feature, your camper's parents can submit registration forms and payments, see pictures of camp activities in a social media-style news feed, and send Bunk Notes to their campers to combat homesickness, as mentioned above. Most importantly, you can quickly send parents urgent updates in the event of an emergency.
Camper experience features. In addition to Bunk Notes that give campers and parents an easy and meaningful way to connect, camp management software offers other ways to improve camper experiences. For example, management software lets campers choose roommates so they can match up with their camp friends each year. They can also build their own schedules so they can choose the activities they want to participate in the most.
Hiring and staff management tools. As you probably know, finding qualified applicants to fill roles at your camp is half of the staffing battle (which is why software with online application forms and staff profiles is so helpful). But maintaining high staff satisfaction levels after the hiring process ends is just as important. Software features like a camp management dashboard that allows staff to view registration and high-level camp data, virtual training materials, and end-of-season surveys can all point to a happier, more productive team.
Financial management tools. As a camp leader, you likely aren't truly passionate about accounting or financial reporting even if you know how important strong financial management is to your business. Camp management software can help you stay on track and manage your finances with reporting and data analysis tools that show important business metrics. View data like finances and total registrants all in one report so you can reference accurate and organized data for future financial decisions.
Finding summer camp management software that has everything you need to drive your camp toward success isn't easy. With tools like these, your camp can start to take steps toward overcoming common problems that crop up during the summer camp season.
CIRCUITREE: The Ultimate Camp Management Solution
If you're looking for a summer camp management solution to prepare for next year's season, look no further than CIRCUITREE. With more than 25 years of camp experience, we're well-equipped to provide camp leaders with the tools they need to run a successful camp.
Our camp management software provides a comprehensive, user-friendly solution to common summer camp issues. Not only does it include the features and benefits discussed in previous sections, but it also has additional capabilities like fundraising tools, transportation coordination features, and high-quality customer service in case you run into issues while using CIRCUITREE. With such a robust tool, you can combat recurring problems at your camp and prevent new ones from cropping up in the first place.

Wrapping Up
As a camp leader, you know that facing challenges is part of running a summer camp. What matters is how your team addresses these challenges. By facing them head-on and searching for solutions, you can foster a camp environment that leads to constant improvement.
Our tools help give your the solutions you need to tackle problems big and small so you can drive positive change and growth at your camp year after year. Get started with CIRCUITREE so you can benign your camp management journey for next year's summer camp season!
Looking for more ways to level up your camp management strategies? Check out these additional resources: